"As the World Turns" star and Emmy-winning actress Elizabeth Hubbard has died at age 89.
Her son Jeremy Bennett confirmed the sad news to Fox News Digital, with a statement from Hubbard before her passing. "Making you smile or cry was the juice for my engine. I will see you in the next life my Darlings," she said.
The cause of death has not been specified at this time.
Hubbard was best known as Lucinda Walsh on the CBS soap opera "As the World Turns." She took on the role in 1984 and appeared on the show through its conclusion in 2010, earning eight Daytime Emmy nominations over the years.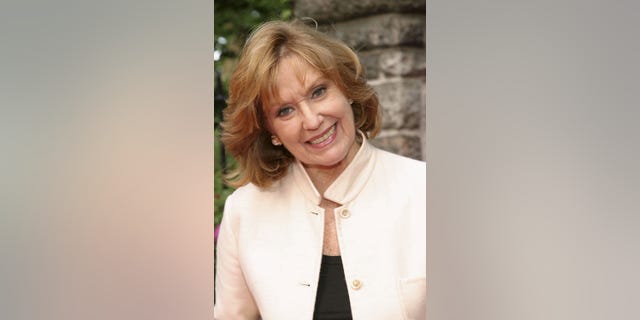 Elizabeth Hubbard at the 31st Annual Daytime Emmy Awards in 2004. She earned a total of eleven nominations and two wins during her career. (Thos Robinson)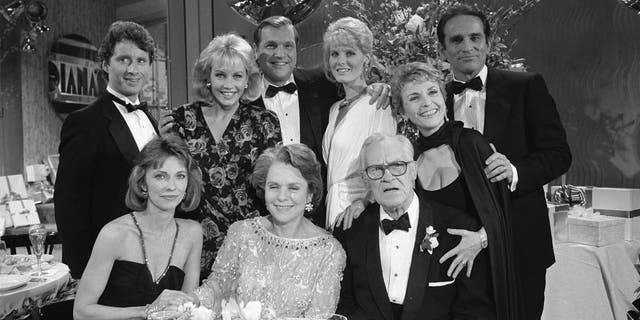 A 1986 cast photo from "As the World Turns" showing, seated from the left: Elizabeth Hubbard (as Lucinda Walsh), Helen Wagner (as Nancy Hughes), Don MacLaughlin (as Chris Hughes) directly behind him: Rosemary Prinz (as Penny Hughes) in rear: Christian LeBlanc (as Kirk McColl), Kim Johnston Ulrich (as Diana McColl), Jay Acovone (as Del Brackett), and Vicky Dawson (as Dee Stewart). (CBS via Getty Images)
MARNIE SCHULENBURG, 'AS THE WORLD TURNS' STAR, DEAD AT 37
Born 1933 in New York City, Hubbard earned a degree in philosophy from Radcliffe College (the women's college of Harvard University) and graduated from the Royal Academy of Dramatic Arts in London, England, earning the school's prestigious silver medal, according to Soap Opera Digest.
Hubbard began her career in soap operas, making her television debut on "Guiding Light" in 1962.
Two years later, she joined the NBC soap "The Doctors" as Dr. Althea Davis, where she earned the best actress in daytime drama Emmy in 1974.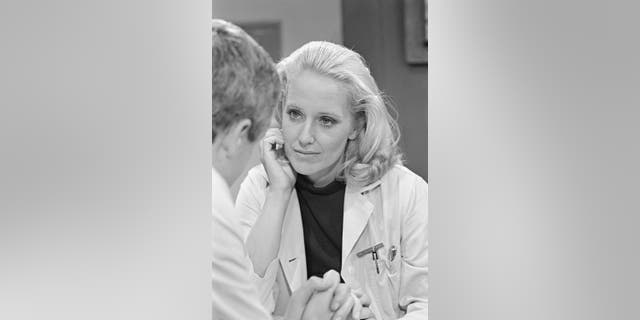 Elizabeth Hubbard as Dr. Althea Davis on "The Doctors." (NBCU Photo Bank/NBCUniversal via Getty Image)
Hubbard also played first lady Edith Wilson in the TV movie "First Ladies Diaries: Edith Wilson," earning her second Daytime Emmy for outstanding lead actress in a daytime drama special.
Beyond television, Hubbard also had roles in "I Never Sang for My Father" and "Ordinary People," both Academy Award nominated films.
CLICK HERE TO SIGN UP FOR THE ENTERTAINMENT NEWSLETTER
In 1983, she had a brief stint on "One Life to Live" before landing her defining role on "As the World Turns."
Hubbard adored her fans and told Soap Opera Digest in 2015, "I love them and I mean that. They're in my heart… let the fans know that I love them and honor them and I still look at the poems I sent them. I've dated many men in my life, but my secret love affair is with the fans."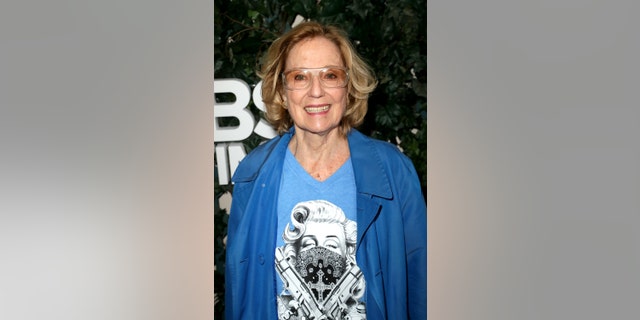 Elizabeth Hubbard was dedicated to her fans, telling Soap Opera Digest in 2015, "They're in my heart." (David Livingston)
The actress was married to David Bennett from 1970 to 1972, and the couple shared one child, son Jeremy.
The soap star continued working after the conclusion of "As the World Turns," most recently appearing on the digital series "Anacostia," where she earned an eleventh Daytime Emmy nomination in 2016.
CLICK HERE TO GET THE FOX NEWS APP
Martha Byrne, who played Hubbard's onscreen daughter Lily, shared a touching tribute on her Instagram.
"As many of you are finding out this morning, Elizabeth Hubbard passed away. First and foremost I want everyone to know I made sure she was aware of how much everyone loved her. I would share your comments from social media, videos and your fond memories of her as Lucinda, Althea, every time I saw her," Byrne wrote.
 
 

 
 
View this post on Instagram
 

 
 
 

 
 

 
 
 

 
 

She continued, "She left it all on the screen. I'll miss her every day but grateful the universe gifted me with such a force of nature, of which the world will not see the likes of again."