The Fairfax Bar and Grill in Indiana alienated some of its patrons after it condemned them for criticizing Bud Light's association with transgender influencer Dylan Mulvaney.
Bud Light and its parent company Anheuser-Busch received backlash for partnering with transgender activist Dylan Mulvaney. The beer maker ignited a firestorm earlier this month when it celebrated Mulvaney's "365 Days of Girlhood" by sending Mulvaney custom-made cans featuring the influencer's face. Millions of Americans have responded by boycotting brands associated with Bud Light and Anheuser-Busch. As of Monday, Bud Light's market share for the latest week lost almost the same amount as rivals like Miller Lite and Coors Light gained, according to a report from Beer Business Daily.
However, one venue in Bloomington, Indiana, has made headlines with a contradictory message calling for "open conversations" about the subject, yet demanding those who disagree to "leave" their establishment.
"We are tired of all of the hate. We are very open to debate and discussion and it's truly a shame that we can't have open conversations about this important political and cultural topic. Bars, in our opinion, exist as public spaces where ideas should be exchanged," The Fairfax Bar and Grill wrote in a Facebook post. "Unfortunately due to all of the bigotry and hatred that has surfaced around the Bud Light controversy any patron wanting to voice their concerns about the issue will be immediately asked to pay their bill and leave our establishment."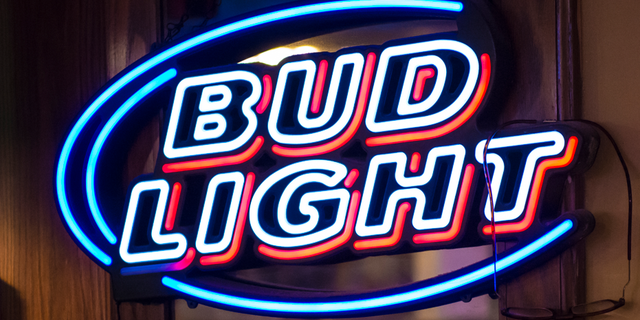 A bar in Bloomington, Indiana, has made headlines for telling customers who disagree with the establishment on the decision of Bud Light working with a trans influencer to "leave." (Roberto Machado Noa/LightRocket via Getty Images)
BUD LIGHT'S DYLAN MULVANEY CONTROVERSY HITS RURAL DISTRIBUTORS AS BRANDING GURU THINKS CONSUMERS ARE CONFUSED
The post was shared alongside an image of a similar statement saying the establishment welcomes "ALL people," but warns that those who are "intolerant" should be silent about their beliefs.
"We are all aware of the controversy surrounding Bud Light. We support ALL people in this establishment no matter who you are of how you identify. We will continue to sell Anheiser [sic] Busch products because we don't care who they make special cans for," the statement said. "If you are intolerant of other humans of any kind, we ask that you keep your opinions to yourself. Should you feel the need to discuss this matter in public you will be asked to leave. We will not tolerate intolerance here."
WISHTV writer Adam Pinsker spoke to the bar's owner, McKinley Minniefield.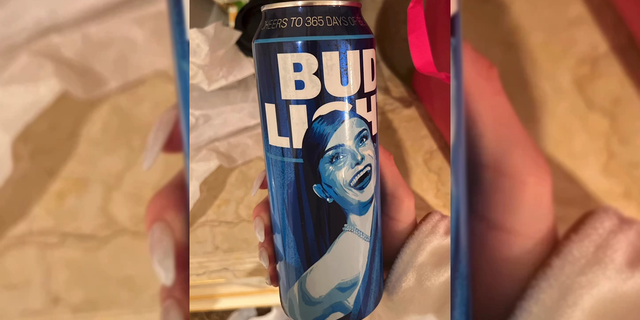 The commemorative Bud Light can featuring TikTok influencer Dylan Mulvaney. (Dylan Mulvaney/Instagram)
THE FUTURE OF WOMEN'S SPORTS IS AT RISK BECAUSE OF TRANSGENDER ATHLETES
"We were just dealing with a lot of hate speech, and people being uncomfortable. My bartenders were aggravated and we had customers that were leaving," he told the news outlet.
He added, "We're a local dive bar in southern Indiana, there's a lot of ideas that tossed around here, but I've never dealt with anything recently that was so overtly hateful."
On Wednesday, the bar's Facebook page released a follow-up statement on the backlash it has received.
"While the response here has been overwhelmingly positive and supportive, it's time to reiterate why we took a stand against hate speech. In the last two weeks since sharing a post stating that we will not tolerate intolerance, our social media has been flooded with blatantly transphobic, homophobic and racist comments," the bar's social media declared. "We are all inclusive and welcome all kindhearted customers. After making that post, the comments on every post since include hate speech saying that transgender people are mentally ill, biological women are being erased, and showing a plethora of disgusting memes." It later warned, "Hate has no place at The Fairfax."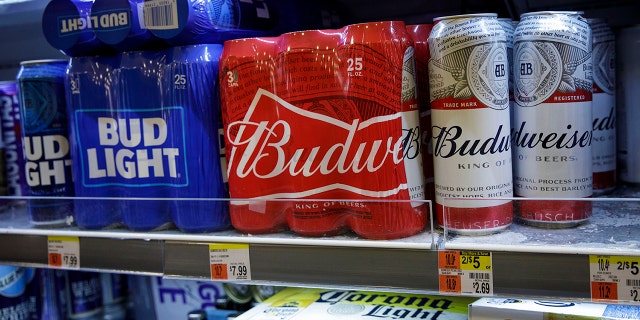 Cans of Budweiser and Bud Light on a shelf at a convenience store in New York City on July 26, 2018. (Drew Angerer/Getty Images)
CLICK HERE TO GET THE FOX NEWS APP
The bar then claimed that it needs more patrons to replace the clientele it has lost.
"Thank you to all of you for supporting our establishment. With the departure of some of our regulars, we have needed new clientele, and you have answered. I'm not gonna lie, we still need more of you right now," the page said. "Please continue to consider supporting us. It's gonna be a great year of friendship, food, drinks and live music!"
Fox Business' Joe Toppe contributed to this report.