President Biden hushed a reporter in Japan on Sunday during an press conference in which he was asked about the debt ceiling crisis.
The president was attending the G7 economic summit in Hiroshima, Japan when he took questions from reporters. Australian Prime Minister Anthony Albanese was present during the bilateral meeting.
A reporter called out and asked Biden if Republicans were negotiating the debt ceiling in good faith, which he motioned to respond to.
"This goes in stages, I've been in these negotiations before," Biden began, before a reporter interjected "
"I still believe we'll be able to avoid a default and we'll get something decent done," Biden concluded before adjourning the presser.
The statement comes as the White House continues to call for bipartisan negotiations regarding the debt ceiling from both Republicans and Democrats. Biden has advised that the debt ceiling should be raised as soon as possible, while Republicans are holding back their support unless certain spending reductions are made.
SEN. MARSHALL TO FORCE VOTE ON RESOLUTION AGAINST BIDEN PUBLIC CHARGE RULE
CLICK HERE TO GET THE FOX NEWS APP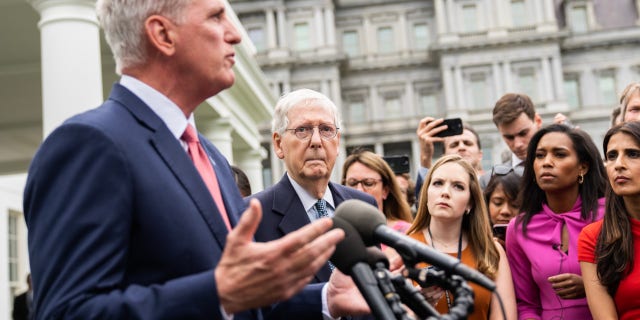 UNITED STATES – MAY 16: Speaker of the House Kevin McCarthy, R-Calif., left, and Senate Minority Leader Mitch McConnell, R-Ky., address the media after a meeting with with President Joe Biden on the debt ceiling at the White House on Tuesday, May 16, 2023. Senate Majority Leader Charles Schumer, D-N.Y., and House Minority Leader Hakeem Jeffries, D-N.Y., also attended. (Tom Williams/CQ-Roll Call, Inc via Getty Images) (Tom Williams/CQ-Roll Call, Inc via Getty Images)
Fox News Digital's Michael Lee and Sarah Rumpf-Whitten contributed to this report.