President Biden invited the "Tennessee Three" to the White House on Friday.
The administration said in a statement that he had praised the three state lawmakers for "seeking to ban assault weapons and standing up for our democratic values."
A social media post showed the president video-chatting with Democrats Justin Pearson, 28, Justin Jones, 27, and 60-year-old Gloria Johnson.
"Earlier today, I spoke to Reps. Jones, Pearson, and Johnson to thank them for their leadership and courage in the face of a blatant disregard of our nation's democratic values. Our country needs to take action on gun violence — and to do that we need more voices like theirs speaking out," Biden said in a caption.
VP KAMALA HARRIS MAKES SURPRISE TENNESSEE VISIT AFTER 2 DEMOCRATS EXPELLED FROM HOUSE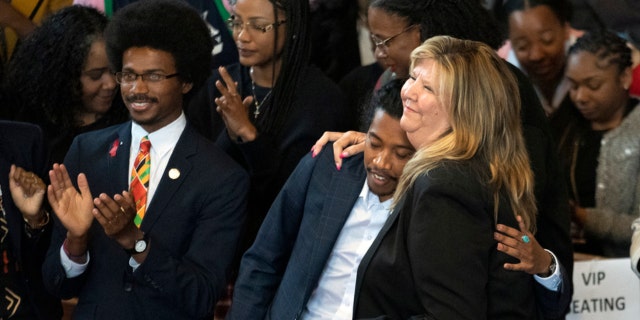 Expelled Rep. Justin Pearson, D-Memphis, from left, expelled Rep. Justin Jones, D-Nashville, and Rep. Gloria Johnson, D-Knoxville, are recognized by the audience at Fisk University before Vice President Kamala Harris arrives, Friday, April 7, 2023, in Nashville, Tennessee.  (AP Photo/George Walker IV)
Jones and Pearson were ousted by the Republican-controlled state House for their role in a protest calling for gun control after a March 27 school shooting in Nashville took the lives of children and employees.
Johnson, who joined in the demonstration, avoided expulsion by a single vote.
The White House has lambasted Tennessee Republicans for their actions, calling them "shocking, undemocratic and without precedent."
"Rather than debating the merits of the issue, these Republican lawmakers have chosen to punish, silence, and expel duly-elected representatives of the people of Tennessee," it said in an April 6 statement, saying that kids are continuing to pay the price for Republicans officials' obstinance.
Also on Friday, Vice President Kamala Harris flew to Nashville, calling for stricter firearm laws, including background checks, red flag laws and restrictions on assault rifles.
"Let's not fall for the false choice — either you're in favor of the Second Amendment or you want reasonable gun safety laws," Harris told a crowd at the city's historically Black Fisk University. "We can and should do both."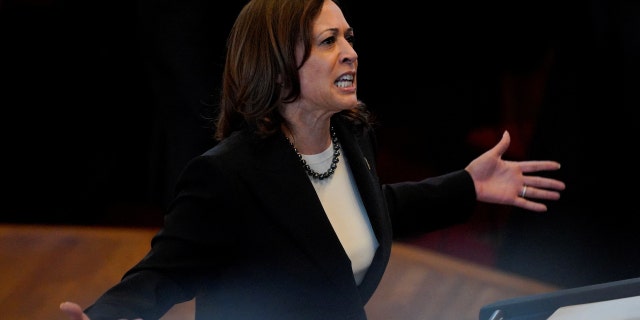 U.S. Vice President Kamala Harris speaks during an address at Fisk Memorial Chapel a day after the Tennessee House of Representatives voted to expel two Democratic members, representatives Justin Pearson and Justin Jones, for their roles in a gun control demonstration at the Tennessee State Capitol, in Nashville, Tennessee, April 7, 2023.  (REUTERS/Cheney Orr)
TENNESSEE DEMOCRATS SAY HOUSE EXPULSION VOTE 'LOOKED LIKE A JIM CROW-ERA TRIAL'
The vice president also met privately with Jones, Pearson and Johnson, and other elected officials and young people advocating for tougher gun control laws.
"This nation was built on peaceful protest. No elected official should lose their job simply for raising their voice – especially when they're doing it on behalf of our children," former President Barack Obama tweeted. "What happened in Tennessee is the latest example of a broader erosion of civility and democratic norms. Silencing those who disagree with us is a sign of weakness, not strength, and it won't lead to progress."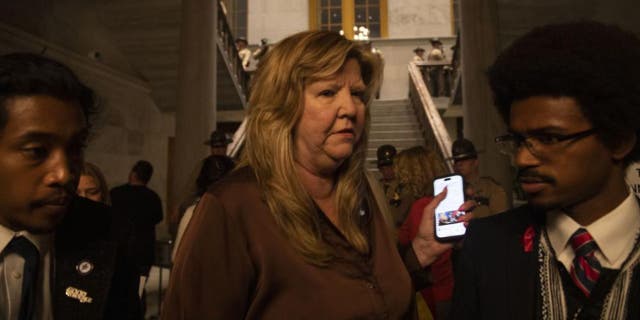 Rep. Justin Jones of Nashville, Rep. Gloria Johnson of Knoxville, and Rep. Justin Pearson of Memphis stand together before a group of supporters on the floor below the House chambers following a session where it was announced Republicans began the process of expelling them, Monday, April 3, 2023. (Nicole Hester /The Tennessean via AP)
Notably, the oustings have also drawn accusations of racism. Jones and Pearson are young Black men, and Johnson is White and was allowed to continue to serve in the chamber. Republican leadership has denied that race was a factor in the matter.
GOP members said that their actions were necessary to avoid setting a precedent that lawmakers' disruptions of House proceedings through protest would be tolerated. Republicans control the Tennessee House of Representatives.
Republican state Rep. Gino Bulso accused the three Democrats of "effectively [conducting] a mutiny."
CLICK HERE TO GET THE FOX NEWS APP
The expulsions led to strong reaction, with hundreds of people converging on the House.
While most state legislatures retain the power to expel members, it is generally a rarely used punishment for lawmakers who have been accused of serious misconduct.
Attempts to get Jones and Pearson reinstated are underway.
Reuters and The Associated Press contributed to this report.