A Christian advocacy group submitted a letter to the U.S. Congress this week urging action to help Armenians still cut off in the Nagorno-Karabakh region.
"Washington's lax approach has only emboldened Azerbaijan, who since December has been holding 120,000 Armenian Christians hostage in an attempt to extract concessions from Armenia in the long-delayed, oft-promised talks to normalize relations," Robert Nicholson, president and CEO of Philos Project, wrote in the letter.
"It's done nothing to relieve pressure on the beleaguered people of Artsakh."
The Philos Project submitted the letter to the House Foreign Affairs Committee (HFAC) Friday, addressing Chairman Mike McCaul, R-Texas, and ranking member Gregory Meeks, D-N.Y.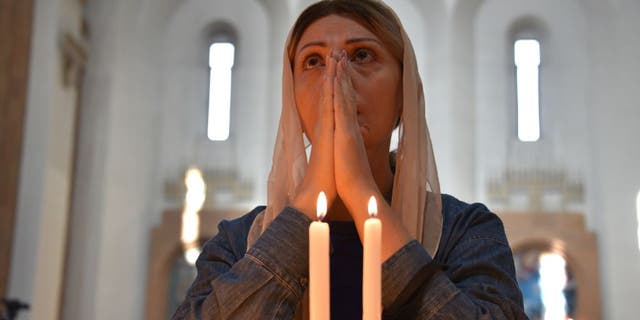 An Armenian woman prays in a church in Yerevan on October 17, 2020, for Armenians killed during fighting over the breakaway region of Nagorno-Karabakh. – Baku and Yerevan have for decades been locked in a simmering conflict over Nagorno-Karabakh, an ethnically Armenian region of Azerbaijan which broke away from Baku in a 1990s war that claimed the lives of some 30,000 people.
The Caucasus neighbours have defied international calls to halt hostilities and accused the other of starting new clashes that began September 27 and have seen the heaviest fighting since a 1994 truce.  (Photo by KAREN MINASYAN/AFP via Getty Images))
"Instead of acting decisively in response to a clear crisis, one that many see as the unfolding of a second Armenian Genocide, the U.S. government has, by all appearances, treated the situation as business as usual," Nicholson wrote. "The President has been markedly silent, failing to acknowledge the current crisis even when issuing an anniversary message on the Armenian Genocide of 1915."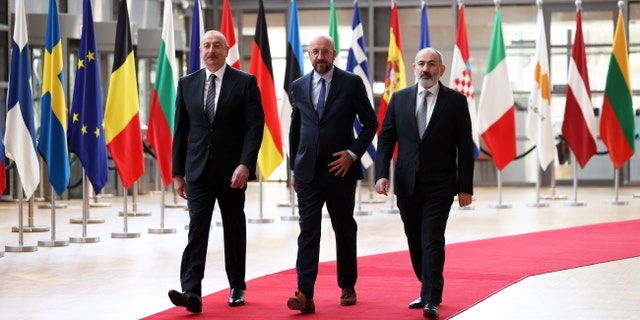 President of Azerbaijan Ilham Aliyev, Prime Minister of Armenia Nikol Pashinyan and President of the European Council Charles Michel arrive to a meeting in Brussels, Belgium, May 14, 2023.  (Dursun Aydemir/Anadolu Agency via Getty Images)
Nicholson noted that following his previous letter to President Biden, the State Department replaced the senior adviser for Caucasus negotiations, which created "an unfortunate setback."
GAZA MILITANTS FIRE ROCKETS INTO ISRAEL, CEASEFIRE TALKS COLLAPSE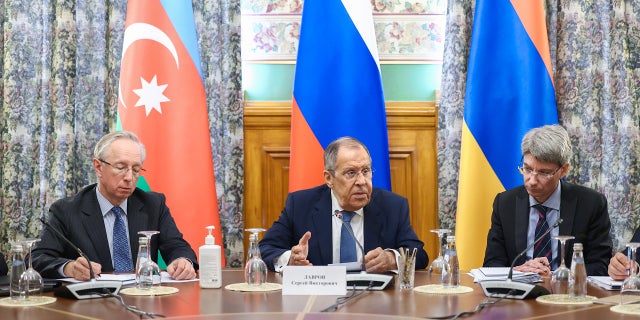 Russian Foreign Minister Sergey Lavrov, Azerbaijani Foreign Minister Jeyhun Bayramov and Armenian Foreign Minister Ararat Mirzoyan attend a meeting held in Moscow May 19, 2023. (Russian Ministry of Foreign Affairs/Anadolu Agency via Getty Images)
A ceasefire brokered in 2020 by Russia between Armenia and Azerbaijan following a particularly violent clash left Armenia vulnerable to the political ambitions of longtime adversary (and U.S. ally) Turkey, which now seeks to use Armenia as land access to trade with Azerbaijan. That access also provides Turkey a stronger foothold in the Caucuses, bordering Iran and just a little south of Russia.
Secretary of State Antony Blinken earlier this month hosted the foreign ministers of Armenia and Azerbaijan for face-to-face talks, and Blinken claimed the ministers made "tangible progress." The secretary claimed a deal between the two nations to end the blockade was "within sight, within reach," but Nicholson said that no announcement materialized.
TURKEY ELECTION: PRESIDENT ERDOGAN, CHALLENGER ARE HEADED TO MAY 28 RUNOFF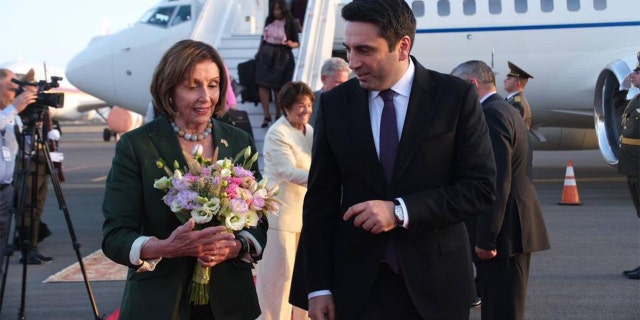 A U.S. congressional delegation led by Speaker of the U.S. House Nancy Pelosi arrives in Yerevan for her first visit to Armenia Sept. 17, 2022.  (U.S. Embassy in Armenia)
"Negotiations toward peace made under these conditions are bound to foster resentments that will be their undoing in the long run," Nicholson argued. "America can do better."
In response to a Fox News Digital request for comment on the blockade earlier this year, the Azerbaijan Embassy in the U.S. sent a "fact sheet" addressing "baseless claims on 'closure' of Lachin road and 'humanitarian crisis' faced by ethnic Armenians" in the region.