Gov. Ron DeSantis is asking that a federal judge be disqualified from the First Amendment lawsuit filed by Disney against the Florida governor and his appointees, claiming the jurist's prior statements in other cases have raised questions about his impartiality on the state's efforts to take over Disney World's governing body.
DeSantis 'attorney filed a motion in federal court in Tallahassee on Friday seeking to disqualify Chief U.S. District Judge Mark Walker from overseeing the lawsuit filed by Disney last month. The lawsuit alleges that DeSantis and his appointees violated the company's right to free speech, as well as the contracts clause, by taking over the special governing district that previously had been controlled by Disney supporters after Disney opposed Florida legislation that critics have dubbed "Don't Say Gay."
DESANTIS SLAMS DISNEY AS LEGAL FEUD ESCALATES: 'POUND SAND'
The Republican governor's motion was filed a day after Disney announced that it was scrapping plans to build a new campus in central Florida and relocate 2,000 employees from Southern California to work in digital technology, finance and product development, amid an ongoing feud with DeSantis.
DeSantis' motion said Walker referenced the ongoing dispute between his administration and Disney during hearings in two unrelated lawsuits before him dealing with free speech issues and fear of retaliation for violating new laws championed by DeSantis and Republican lawmakers. One of those was a First Amendment lawsuit filed by Florida professors that challenged a new law establishing a survey about "intellectual freedom and viewpoint diversity" on state campuses.
Disney and DeSantis have been engaged in a tug-of-war for more than a year that has engulfed the GOP governor in criticism as he prepares to launch an expected presidential bid next week.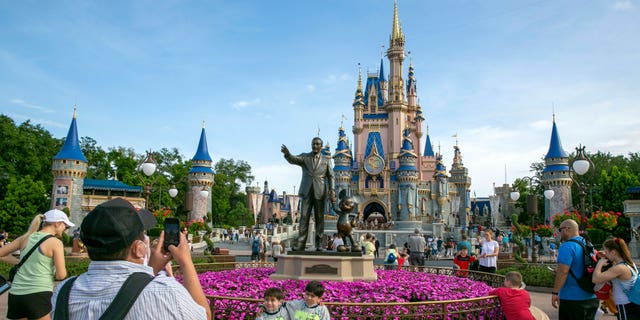 People visit the Magic Kingdom Park at Walt Disney World Resort in Lake Buena Vista, Fla., April 18, 2022. Ongoing strength at its theme parks and an improving streaming business propelled The Walt Disney Co. to higher profits and revenue in its fiscal second quarter in 2023. (AP Photo/Ted Shaffrey)
The feud started after Disney, in the face of significant pressure, publicly opposed the state concerning lessons on sexual orientation and gender identity in early grades that critics called "Don't Say Gay."
As punishment, DeSantis took over Disney World's self-governing district through legislation passed by lawmakers and appointed a new board of supervisors. Before the new board came in, the company signed agreements with the old board stripping the new supervisors of design and construction authority.