Florida Gov. Ron DeSantis signed a bill Monday allowing the death penalty in convictions for the rape of a child under age 12, defying current U.S. Supreme Court precedent.
DeSantis, a Republican rumored to announce a 2024 presidential run in the coming weeks, signed three bills at a "Law & Order" press conference in Titusville, Florida.
Besides the measure aimed at making convicted child rapists eligible for capital punishment, with the minimum sentence of life in prison without parole, the two other bills will impose additional penalties on fentanyl and drug-related crimes targeted at children. Their aim is to protect Floridians from Democrat-supported bail reforms in liberal jurisdictions.
"The other thing we're doing is making clear that in Florida we stand for the protection of children. And unfortunately, in our society, you have very heinous sex crimes that are committed against children under the age of 12 years old. These are really the worst of the worst. And what happens is, the perpetrators of these crimes are often times serial offenders," DeSantis said from the podium. "If they do that once, chances are they will do it again unless they're stopped. Unless they're incapacitated. We really believe that part of a just society is to have appropriate punishment. And so, if you commit a crime that is really, really heinous, you should have the ultimate punishment."
DESANTIS CLAPS BACK AT DISNEY: 'THEY'RE NOT GOING TO HAVE THEIR OWN GOVERNMENT'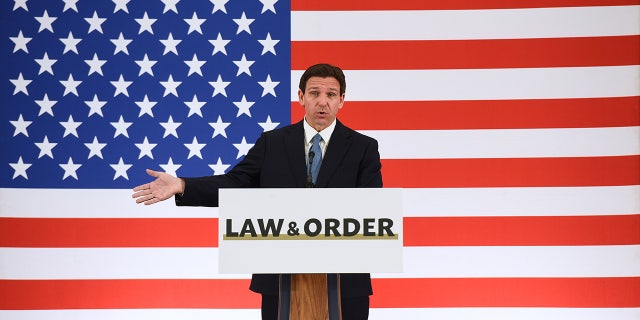 Florida Gov. Ron DeSantis spoke at the American Police Hall of Fame & Museum in Titusville after signing bills to increase penalties for sexual battery and drug trafficking targeting children, and a third on pretrial release and detention. (Paul Hennessy/SOPA Images/LightRocket via Getty Images)
In 2008, the U.S. Supreme Court ruled in a 5-4 decision that the Eighth Amendment's ban on cruel and unusual punishment in the U.S. Constitution bars the death penalty for child rape.
"We think that that decision was wrong. We think that in the worst of the worst cases, the only appropriate punishment is the ultimate punishment. And so, this bill sets up a procedure to be able to challenge that precedent," DeSantis said. "And to be able to say that in Florida, we think that the worst of the worst crimes deserve the worst of the worst punishment."
The law signed Monday is meant to get the nation's more newly conservative leaning highest court to reconsider the ruling made in Kennedy v. Louisiana 15 years ago that prevents states from executing convicted child sex predators unless they also murdered their victims.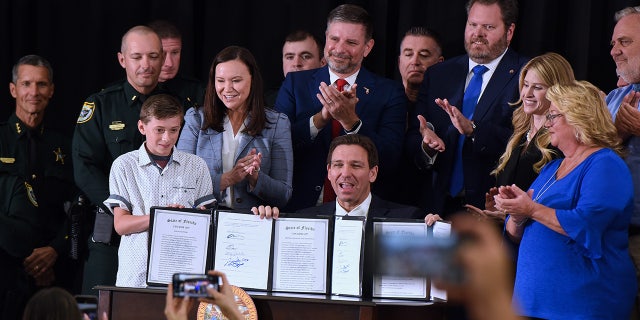 Florida Gov. Ron DeSantis displayed three bills he signed into law at a press conference at the American Police Hall of Fame & Museum in Titusville, Florida. (Paul Hennessy/SOPA Images/LightRocket via Getty Images)
Florida is among a handful of states with existing laws that allow for the death penalty on child rape convictions but has not used capital punishment given the U.S. Supreme Court's current precedent. The Florida Supreme Court has also ruled against the use of capital punishment in sexual battery convictions.
DESANTIS-BACKED FLORIDA TOURISM BOARD TO COUNTER-SUE DISNEY
The legislation, which goes into effect Oct. 1, would authorize the state to pursue capital punishment when an adult is convicted of sexually battering a child under 12 and provides a framework in the state's capital punishment laws for prosecutors to do so. It was approved in the Florida Legislature with bipartisan support.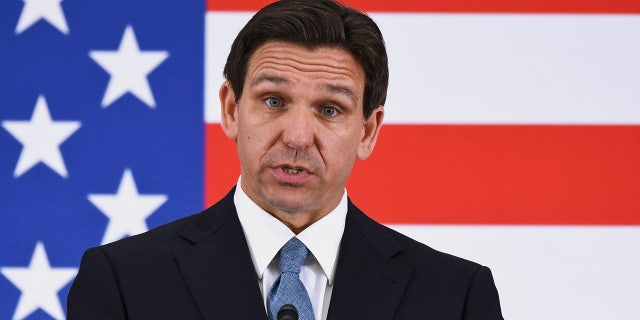 Florida Gov. Ron DeSantis addressed an event in Titusville, Florida, after signing three bills, including one to allow capital punishment in child rape convictions. (Paul Hennessy/SOPA Images/LightRocket via Getty Images)
Last month, DeSantis also signed a bill to end a unanimous jury requirement in death penalty sentencing, allowing capital punishment with jury recommendation of at least 8-4 in favor of execution. On Monday, the governor signed another bill to enhance criminal penalties around the selling of fentanyl and fentanyl analogs that are packaged or disguised in the form of candy or other food products.
The third bill DeSantis signed Monday requires the Florida Supreme Court to develop a uniform bond schedule for state courts to follow and bars a chief judge from setting bond below the schedule. It also forbids a person from being released before his or her first court appearance if charged with a violent or heinous crime.
CLICK HERE TO GET THE FOX NEWS APP
"We're really delivering a big agenda," he said. "So this is one important – but admittedly very small part – of an overall large agenda and very bold agenda that's really setting the terms of the debate for the country, quite frankly."
The Associated Press contributed to this report.