Orlando, Florida – In remarks at the opening session here of the National Religious Broadcasters (NRB) International Christian Media Convention on Monday night, Gov. Ron DeSantis vowed to continue taking on woke agendas, make pro-family decisions and support Americans' right to practice their faith.
DeSantis, believed to be throwing his hat in the ring as a presidential candidate in 2024, spoke through strong applause at the Orlando World Center Marriott in Orlando as he outlined his views on protecting faith and family.
DeSantis began by telling a personal story about the personal importance of a bottle of holy water from the Sea of Galilee as attendees gather for a four-day convention with a theme of celebrating 75 years of Israel's independence.
He and his wife, Casey DeSantis, had been in Israel "many years before that together," he said, "and my wife brought back that fresh water from the Sea of Galilee."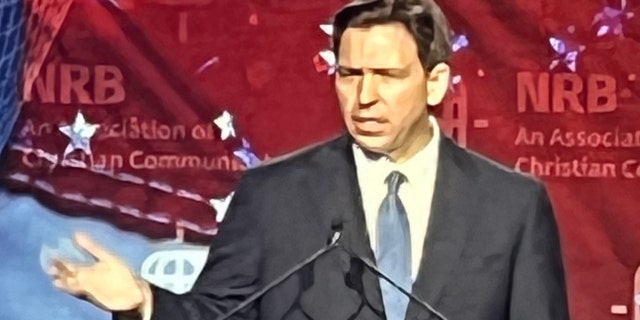 A big-screen image of Florida Gov. Ron DeSantis as he addressed the NRB Conference's opening session on Monday evening, May 22, 2023, in Orlando, Florida. DeSantis vowed to keep fighting for families and for religious liberty in the United States. (Fox News Digital)
The bottle was later apparently tossed out during house cleaning, he said.
As word got out to people the family knew in Israel about the lost holy water, "within 24 hours there were people in Israel digging into the Sea of Galilee, and they sent me this beautiful glass jar filled with water from the Sea of Galilee," he said.
"And if you look at when kids do well … it's when somebody is willing to take an interest in them."

"We're working with groups that are addressing the needs of the father and trying to get them engaged with their kids," DeSantis said of his state's pro-family initiatives.

Above, Republican Florida Gov. Ron DeSantis speaks during the annual Feenstra Family Picnic at the Dean Family Classic Car Museum in Sioux Center, Iowa, on Saturday, May 13, 2023.  (Rebecca S. Gratz for The Washington Post via Getty Images)

DeSantis also said that children "need to understand the foundations of our country. They need to understand our Constitution and our Bill of Rights and understand what it means to be an American."

The governor also said that he and his administration are "holding these Wall Street banks accountable" and "fighting back against the weaponization of government."

He said, "We have a government targeting parents going to school board meetings. They will target pro-life activists."

He added, "They will allow municipal workers to protest illegally in front of our Supreme Court justices' homes."

CLICK HERE TO GET THE FOX NEWS APP

He went on, "And they are now in the FBI saying observant Catholics represent some type of threat in society."

DeSantis also said, "Make no mistake, weaponized government is one faction of society turning the reins of power against those people they don't like. And the people that are in power now do not like people of faith."

Florida Gov. Ron DeSantis is shown speaking to Iowa voters on March 10, 2023, in Des Moines, Iowa.  (Scott Olson/Getty Images)

DeSantis also noted that when he is flying out of Washington, D.C., passengers' attention often is directed to one side of the plane, where the monuments in the nation's capital can be seen.

Toward the close of his remarks, DeSantis said, "Put on the full armor of God … and don't ever, ever back down."