Californnia high school senior Megan Simpkins slammed her school in a passionate speech for allowing a biologically male student to use the women's locker room, alluding to a physical altercation.
Martin Luther King High School in Riverside, California made headlines after a viral video showed a transgender student assaulting a female student on campus. Parents reportedly told Fox 11 the transgender student has a history of "erratic and uncomfortable behavior" and had access to the girls' bathrooms and locker rooms. Riverside Police also claimed this is not the first time this transgender student has been involved in an altercation. Many voiced their outrage that such a sequence of events was allowed to happen in the first place at a recent school board meeting.
The 18-year-old high school student spoke at Riverside Unified School District's (RUSD) board meeting, where she warned about the issue of "biological men claiming they are women and in turn truly believing that they are entitled to use women's spaces."
"There was an incident within our district that occurred recently regarding a transgender woman, who really is a biological man, having an altercation with a young woman at MLK High School," she said. "It was infuriating when I had seen the video on social media, but what was detrimental to this is the fact that this man is and has been using the women's restroom and locker room."
MLK High School senior Megan Simpkins condemned local school leadership for kowtowing to radical transgender policy.
TRANS WOMAN SHOWERED WITH FOUR WISCONSIN HIGH SCHOOL GIRLS, VIOLATED THEIR PRIVACY, LETTER TO DISTRICT CLAIMS
Simpkins also took aim at the ideology behind the trans movement.
"Firstly the question we must address is why are we affirming the mental confusion of this boy and putting the safety of women in jeopardy by allowing mentally confused men to use women's spaces?" she asked.
Simpkins marveled at how women and "true girls" like herself "who are female down to our DNA" are not consulted about these changes to their private spaces.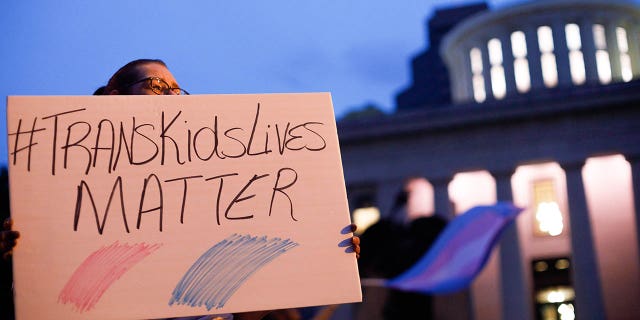 Transgender rights advocate holds a sign outside the Ohio Statehouse during a rally. The involvement of biological men who identify as transgender in women's sports, as well as gender operations on children, have been two of America's most politically divisive issues in the past year. (Stephen Zenner/SOPA Images/LightRocket via Getty Images)
WISCONSIN PARENTS OUTRAGED AFTER TEACHER GIVES TRANSGENDER LESSON TO K-5TH GRADE WITHOUT PERMISSION
"Why don't we ever get a say in whether or not we are comfortable with this?" she asked. "The truth is we aren't, the majority of us aren't, and yet nothing has been done to protect the safety of these women. I will conclude with this it all starts with you. You are in charge of the safety of us women."
"Please do something about it, thank you," she added.
The RUSD released a public statement in late April, noting that, "A video depicting an altercation involving students at Martin Luther King High School has been widely circulated on social media this week," and declaring, "This matter has had the full attention of Riverside Unified School District administration and is being addressed expeditiously."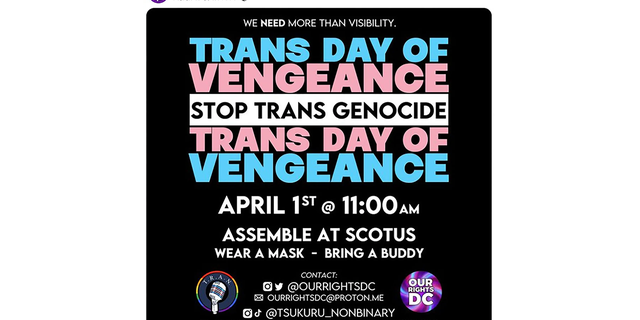 Poster advertising the "Trans Day of Vengeance" that was taken down by Twitter. The Trans Radical Activist Network (TRAN) denied it was encouraging violence. Violence from transgender radical activists has been a major political topic in recent months. (TRAN Twitter/Screenshot)
CLICK HERE TO GET THE FOX NEWS APP
The unnamed transgender student was reportedly expelled from the school.
"Since the incident occurred, District staff has been working to ensure the safety and rights of all students are considered and promptly responded to," the statement stated. "We are able to verify that the student involved will no longer be attending King High School."