A police force on the west coast of Florida was caught by surprise after investigating what appeared to be a large 'alligator' lounging on a sandy beach.
Officers with the Treasure Island Police Department, who stumbled upon the scaly and strangely-still reptile, had realized it was actually a detailed sand sculpture.
The incident happened on Thursday evening and the police department shared a snapshot of the gator sand sculpture to Twitter and Facebook on Friday, May 12.
HUGE ALLIGATOR SWIMMING IN ALABAMA OCEAN SHOCKS BEACH-GOERS: 'NEVER CHARGED OR HISSED'
ALLIGATOR SPOTTED ON TEXAS BEACH BY SEA TURTLE PATROLLERS: 'CAUGHT BY SURPRISE'
The police department followed up its post by informing residents that they should squash sand sculptures before they leave the beach.
"We love the talented people creating works of art in the sand, but with it being turtle nesting season, remember to flatten sandcastles/sculptures before you leave," the department wrote. "The sea turtles will thank you!"
Leaving the sculptures up past sunset reportedly violated local ordinances that prohibit obstructions for the sake of beach-goer and sea turtle safety.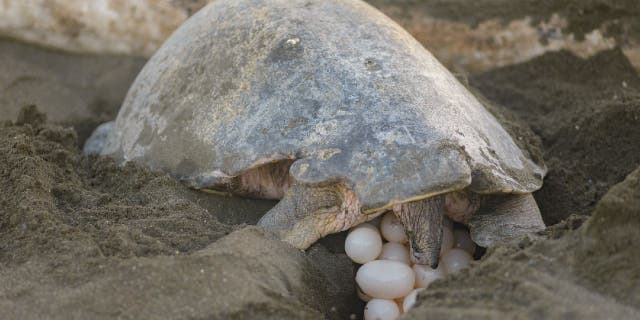 Sea turtles dig holes in sand to create nests where they can lay eggs. Hatched turtles crawl to the sea, but obstructions and lights can make their travel attempt a dangerous one. (iStock)
Nesting sea turtles require flat surfaces to lay eggs and clear paths make it easier for hatched turtles to find the sea after they've entered the world.
In 2017, an Alabama youth minister was fined $25 for using a metal tool to dig a one-foot-deep hole near his sandcastle during a spring break trip to Panama City Beach, Florida, according to a report published by Fox 4 Now, a Southwest Florida news affiliate.
FOLLOW US ON FACEBOOK FOR MORE FOX LIFESTYLE NEWS
Fine adverse beach visitors and vacationers should check local laws to see if the destination they're visiting has restrictions or rules about sandcastles, sand sculptures and sand holes.