Erosion along Daytona Beach, Florida, caused mainly by two hurricanes last fall, exposed a shipwreck last week that archeologists hope to learn more about, according to reports.
FOX 35 in Orlando reported that researchers planned to examine the wreckage Monday, though it is not clear whether inclement weather deterred those plans.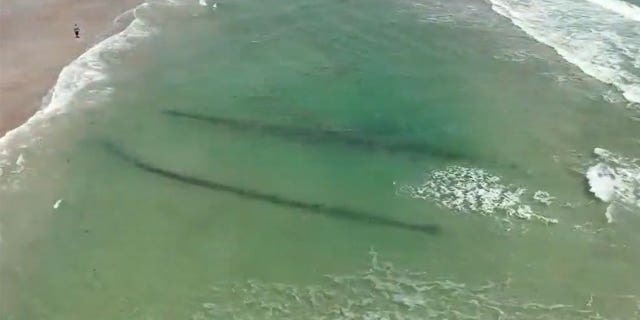 Beach erosion in Daytona Beach, Florida, caused by recent high tides and two major hurricanes in the Fall exposed a shipwreck off the coast. (FOX 35 Orlando)
The wreck was exposed near Daytona Beach Shores because of beach erosion allegedly caused by hurricanes Ian and Nicole in 2022 and high tides.
FLORIDA BEACH'S MYSTERY DEBRIS UNCOVERED BY HURRICANE NICOLE LIKELY SHIPWRECK FROM 19TH CENTURY
Aerial footage captured by the station's SkyFox drone depicts wreckage in the shape of a hull, estimated to be 25 to 30 feet long.
FOX 35 spoke to the Volusia County Beach Patrol captain, who said nothing has been unearthed near Daytona Beach Shores in 20 years, adding that it appears to be a ship's hull, though archeologists would need to confirm that first.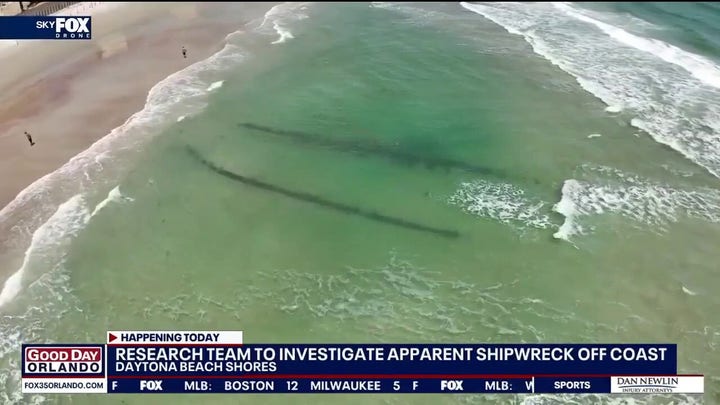 Video
But if archeologists do in fact confirm it is a shipwreck, it would be the second time since the two hurricanes pummeled Florida, that a shipwreck has been discovered near Daytona Beach.
FLORIDA BEACH MYSTERY: DEBRIS FOUND ON SHORE AFTER HURRICANE
Back in December, another wreck was exposed by erosion in Daytona Beach Shores.
When crews investigated December's wreckage, they believed it was part of a ship that sailed in the mid-to-late 1800s.
"Imagine as many Amazon trucks that you see on the roads today, this was the equivalent in the 1800s," Christopher McCarron, archeology administrative director and the vessel captain of the St. Augustine maritime program, told FOX 35 then.
CLICK HERE TO GET THE FOX NEWS APP
McCarron did not immediately respond to questions from Fox News Digital on Monday regarding the latest find off the coast.
The debris in Daytona Beach Shores adds to a few other discoveries that were made in Florida after Hurricane Nicole.
Human remains were unearthed by Hurricane Nicole on Hutchinson Island, that officials said they believed may have come from a Native American burial mound.
A photographer also spotted a 1930s trunk washing ashore near St. Augustine following the violent storm, though nothing of value was in the trunk, according to officials.
Sarah Rumpf-Whitten of Fox News Digital contributed to this report.