A driver in Florida was knocked out cold after a mysterious object struck their vehicle on a highway last week, authorities said.
The "unknown object," believed to be to a stray tire, hit the victim's GMC truck as it traveled on the southbound lanes of I-95 in Hobe Sound on Thursday, Martin County Fire Rescue said.
"The victims didn't know what hit them," the agency said.
The airborne object shattered the vehicle's windshield, ripped off part of the truck's roof and knocked the driver unconscious, the agency said.
CAR GOES AIRBORNE ON LOS ANGELES FREEWAY AFTER TIRE POPS OFF PICKUP TRUCK: VIDEO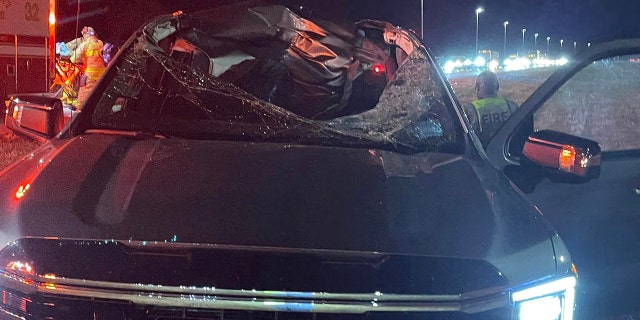 The accident happened Thursday on I-95 in Hobe Sound, Florida. (Martin County Fire Rescue )
At least two passengers were inside the truck at the time of the accident, and officials said one of the passengers grabbed the steering wheel to take control of the vehicle and safely pull over.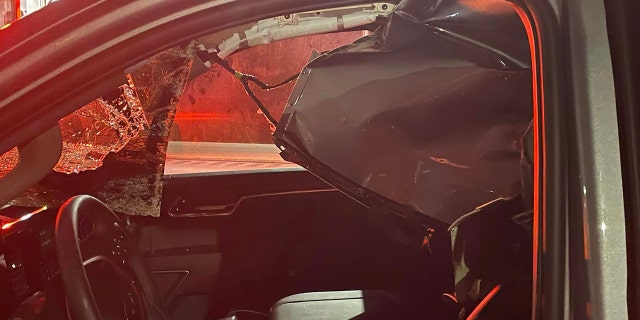 A passenger grabbed the steering wheel and safely pulled the truck over, according to officials. (Martin County Fire Rescue )
The driver was seriously injured and was airlifted to a hospital. No update on the driver's condition was immediately available.
Two passengers suffered non-life-threatening injuries and were treated at a hospital.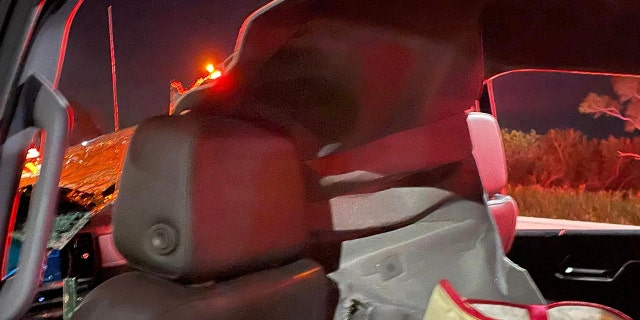 The mysterious airborne object struck the vehicle, shattering the windshield, tearing off part of the roof and knocking the driving unconscious, officials said. (Martin County Fire Rescue )
Officials said an abandoned trailer missing a wheel was located on the northbound side of the road near the scene.
NEBRASKA DRIVER DIES AFTER LOSING CONTROL, CRASHING INTO HOME
However, the agency said there was no vehicle and no witnesses to give authorities any information on the incident.
The accident occurred just a week after a similar incident involving a stray tire launched a vehicle through the air on a California freeway.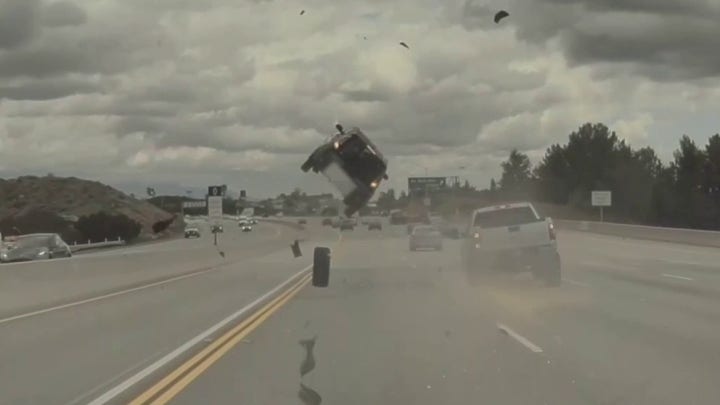 Video
Dashcam video from another driver on the Ronald Reagan Freeway near Los Angeles captured a tire pop off a white pickup truck and shoot in front of a Kia Soul, which struck the tire and went airborne, flipping through the air.
No serious injuries were reported in that accident.