And you thought the electric Ford F-150 Lightning was fast enough to live up to its name.
Ford has built an electric car that aims to break a world record… that Ford already owns.
The Mustang Super Cobra Jet 1800 is a battery-powered drag racer that's an evolution of 2020's Mustang Cobra Jet 1400, which holds the quarter-mile record for full-bodied electric cars at 8.128 seconds at 171.97 mph.
As their names imply, the original car had over 1400 hp and the new one has been boosted to 1800 hp.
FORD'S AI-POWERED TECH LETS PICKUPS PULL UP TO TRAILERS BY THEMSELVES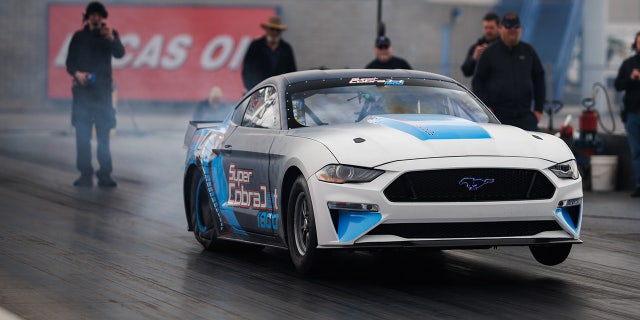 The Mustang Super Cobra Jet 1800 is an all-electric drag car. (Ford)
Unlike most production electric cars, including Ford's, which use the motors to directly drive their axles or wheels, the Super Cobra Jet 1800 has two Cascadia Motion dual stack motor units under the hood that send their power to the rear wheels through a three-speed automatic drag racing transmission.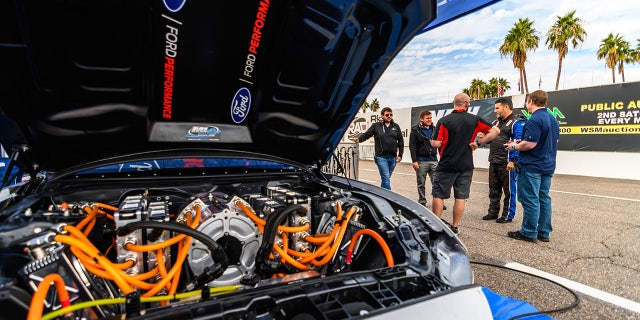 The Mustang Super Cobra Jet 1800 has electric motors under its hood. (Ford)
Ford and partner MLe Racecars also designed a lighter battery pack and re-engineered the rear suspension to accommodate larger drag radial tires for improved traction under acceleration.
CLICK HERE TO SIGN UP FOR THE FOX NEWS AUTOS NEWSLETTER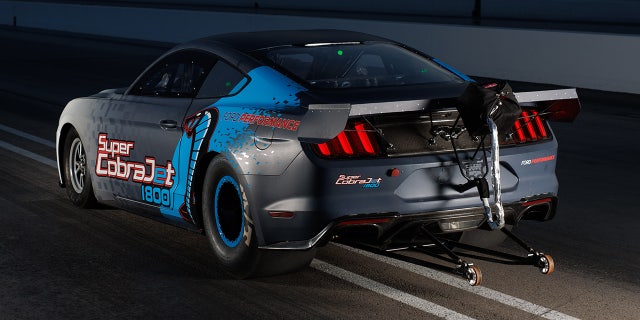 The car will attempt to set three acceleration records. (Ford)
"We're always looking to push ourselves in every corner of the motorsport world," Ford Performance Motorsports global director Mark Rushbrook said.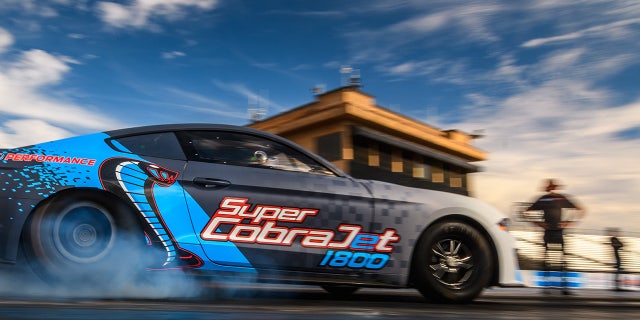 The Mustang Super Cobra Jet 1800 is rear-wheel-drive. (Ford)
"Drag racing remains a key proving ground for our products and technology, and we're excited to not only try to best our own record in the quarter-mile, but to further showcase ongoing development we continue to make across the entire electric vehicle landscape."
CLICK HERE TO GET THE FOX NEWS APP
Ford will attempt to claim a new record at an NHRA-sanctioned demonstration event later this year and is also looking to set electric vehicle and two-wheel-drive electric vehicle 0-60 mph acceleration marks.