Several Republican senators are suggesting they are open to discussing how Congress can step in to regulate artificial intelligence systems after Senate Majority Leader Chuck Schumer, D-N.Y., announced he wants to put guardrails on the rapidly advancing sector.
Multiple senators told Fox News Digital on Tuesday that they were concerned with the pace of unchecked AI advancement, though some also warned about the implications of hindering the industry's growth at a time when adversaries like China are moving full steam ahead to integrate AI into their own military and intelligence-gathering capabilities. None had seen Schumer's proposal, which is still in its very early stages.
Sen. Josh Hawley, R-Mo., cautioned that he was "no expert" in the complex field but said he was "concerned" about the possible effects of AI on society.
"I certainly think it's something we should look at," Hawley said of regulating AI. "I need to learn about it, but I'm really concerned about the trendline and I'm really concerned that people who really are kind of experts in the field are sounding the alarm."
BIDEN MAY REGULATE AI FOR 'DISINFORMATION,' 'DISCRIMINATORY OUTCOMES'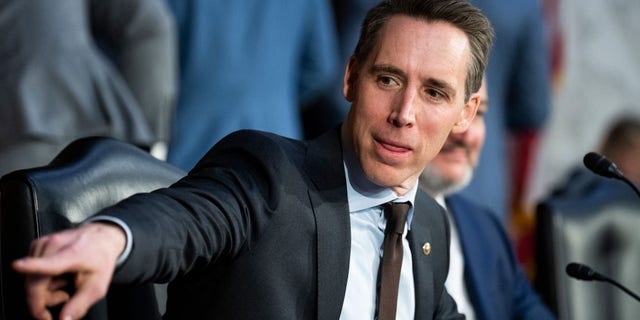 Sen. Josh Hawley, R-Mo., is one of several GOP senators who is open to the idea of regulating AI systems. (Tom Williams/CQ-Roll Call, Inc via Getty Images)
"Given its potential impact on consumers, its ability to shape news, its relationship information, its ability to shape, you know, how products are presented… I'm really concerned about it," he said.
Sen. Ted Budd, R-N.C., a pilot who is on a subcommittee set to look into AI and cybersecurity on Wednesday, said all of his colleagues on both sides of the aisle "need to be briefed up" on what Congress can do about AI. He also said he was interested in hearing more about Schumer's proposal when it's more fleshed out.
FTC STAKES OUT TURF AS TOP AI COP: 'PREPARED TO USE ALL OUR TOOLS'
"We do" have a role to play in regulating AI, Budd said. "But you don't want to do it in haste, you want to do it very wisely. You want to understand the industry, you want to understand what could go right, and the opportunities, as well as what could go wrong."
AI's advancement has permeated everyday conversations in work and education with easy-to-use programs such as ChatGPT. At the same time, leaps in capabilities like those in self-guiding weapons and drones show AI is also poised to change the way wars are fought.
The U.S. military has made it clear it is looking to incorporate AI into its weapons of war, and is hiring high-priced specialists to make it happen.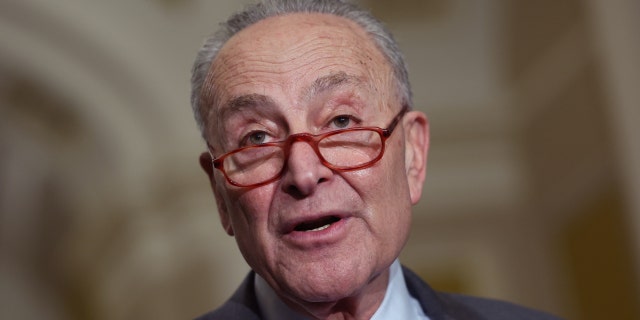 Senate Majority Leader Chuck Schumer introduced a broad framework aimed at regulating the AI industry ((Photo by Kevin Dietsch/Getty Images))
Schumer's plan, announced last week, is a broad framework aimed at promoting accountability and transparency in the sector while trying to avoid putting limits on critical advancements. He said he would "refine" his proposal "the coming weeks," according to a press release by his office.
One of Schumer's aims at this stage is to require companies involved in AI development to open their technology to outside review by industry experts before making it publicly available.
The top Republican on the Senate Intelligence Committee, Sen. Marco Rubio, R-Fla., said he was "interested" to hear Schumer's plan but questioned whether Congress was able to regulate AI "effectively."
ELON MUSK'S WARNINGS ABOUT AI RESEARCH FOLLOWED MONTHS-LONG BATTLE AGAINST 'WOKE' AI
"I haven't seen this framework but I'm interested in understanding more about the systemic risks that [AI] poses," Rubio said. "We didn't see that coming with social media, and this is going to be that times 50 or 100."
"I think it's unique in that we're ahead of it, as opposed to it overwhelming us – now, you know, I have real questions about whether we're going to be able to regulate it effectively given a capacity that isn't really fully defined yet," he said. "Can statutory language deal with it, or is it flexible enough to allow us to deal with it in the future? But I'm certainly interested in the concept of doing something about it, because I think there are real dangers embedded in it that we don't fully yet understand."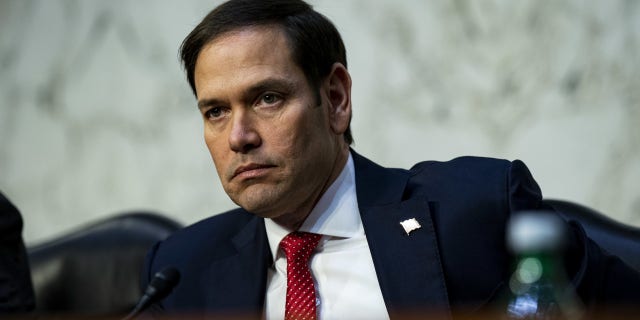 Senator Marco Rubio, a Republican from Florida and ranking member of the Senate Intelligence Committee, during a hearing in Washington, DC, US, on Wednesday, March 8, 2023. (Al Drago/Bloomberg via Getty Images)
Sen. Mike Rounds, R-N.D., a top lawmaker within the Senate AI Caucus, cautioned against doing too much too quickly but indicated that he would be open to discussing regulatory barriers once the technology was better understood.
CLICK HERE TO GET THE FOX NEWS APP
"What we can't do is stop our development when the rest of the world is going to continue on at a hypersonic pace," Rounds said on Monday evening. "Look, we're going to be able to use this to actually cure cancer in the future… We're going to use this to defend our country. But our adversaries are going to be using it to try to attack us in new and really scary ways. So whatever we can do to develop it and to get some confidence in it, while at the same time making certain that we recognize the limits or the dangers of it, the better off we're going to be."
Schumer's office did not respond to a query from Fox News Digital regarding when the proposal would be shaped into legislation.