Hunter Biden's ex-stripper mistress asked a judge last week to arrest him for dodging court orders in his child support case – a "hallmark Biden litigation tactic," according to the woman's lawyer.
Lunden Roberts, who shares a 4-year-old daughter with Biden, asked the court in a Thursday filing to take that action as a way of enforcing its requirement that he disclose his income and assets. Biden is attempting to lower the $20,000 monthly child support in the case, and Roberts argues Biden has been dodging that obligation.
"She seeks civil contempt of incarceration until such time as the defendant fully answers discovery and to be paid for her attorney's fees and costs, which are paid from her child support payments and thereby a loss to the child in this case," her lawyer argued Thursday, according to the court filing. "Specifically, the plaintiff seeks $20,000 to compensate for the discovery goose chases, hounding of the defendant, and need to constantly seek the court's intervention."
Roberts has also asked to change their daughter's last name to Biden so she can benefit from the prestigious family name.
JAKE SULLIVAN SERVED ON A NATIONAL SECURITY BOARD WITH HUNTER BIDEN FOR 2 YEARS, RAISING QUESTIONS FROM GOP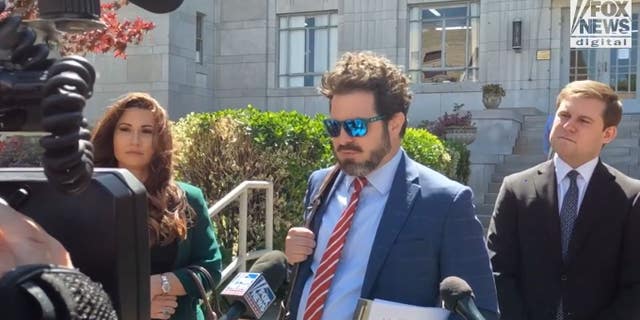 The attorneys for Lunden Roberts, the mother of Hunter Biden's daughter born out of wedlock. (Fox News)
"[P]laying games with discovery is a hallmark Biden litigation tactic," Roberts' lawyer wrote. "Mr. Biden does not want to disclose his income and assets, says that he is somewhat financially destitute, while he lives on a mountain overlooking the Pacific Ocean in Malibu, has Secret Service protection, and enjoys his time abroad."
Biden has rejected the plaintiff's argument that he is a privileged member of the president's family. He claimed he only flew on Air Force One once and "stayed on a cot in his dad's room in Dublin" because of his unstable financial situation. He also claimed he had his Porsche repossessed.
CLICK HERE TO GET THE FOX NEWS APP
Hunter Biden's lawyer did not respond to a request for comment.