The Illinois State Police released dashcam footage of a deadly shooting in which a stranded motorist shot a trooper and died from returning gunfire.
A trooper stopped to assist the suspect around 3 a.m. on May 9 along the right shoulder of Interstate 64 in Mount Vernon. Near the vehicle was 23-year-old Brandon Griffin from Albuquerque, New Mexico, and his wife, 31-year-old Christine Santos.
ILLINOIS TEEN FISHERMAN CATCHES 50-INCH MUSKIE: 'A WHOLE EXPERIENCE'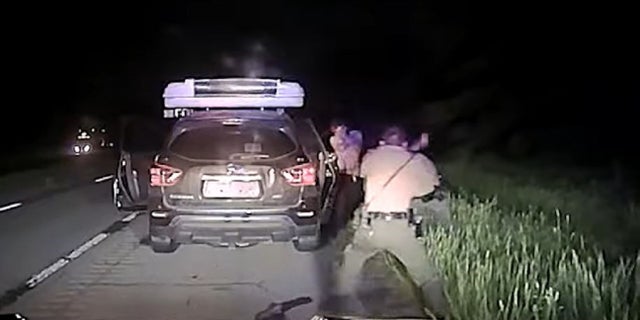 Brandon Griffin is seen on video shooting an Illinois State trooper during a May 9 confrontation, authorities said.  (Illinois State Police)
Authorities said the couple provided fake names and birthdates three times. A record revealed Griffin had a nationwide arrest warrant for weapons charges. A second trooper arrived minutes later.
During the encounter, a trooper is heard telling the pair that he initially wanted to help them before the lied about their identities. As they tried taking Griffin into custody, he resisted while Santos pleaded with him.
At one point, Griffin is heard saying "I was in the military. You're going to have to shoot me," during the struggle.
One trooper used a Taser, sending Griffin to the ground. He somehow managed to get up, reached into a passenger seat and pulled out a gun.
"He's got a gun!" a trooper is heard yelling before Griffin fired, striking one of them.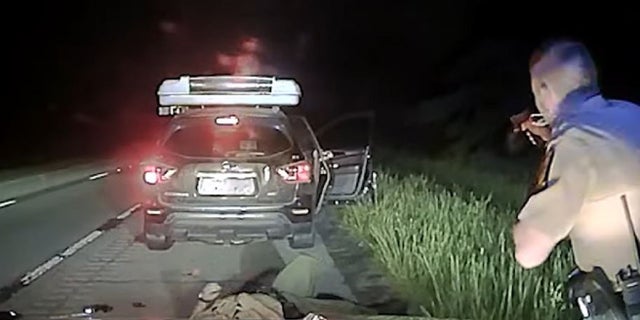 An Illinois State Trooper is seen on the ground after being shot while another points his weapon at a car where the shooter was hiding.  (Illinois State Police)
CLICK HERE TO GET THE FOX NEWS APP
The other trooper returns fire and helped the other off the ground to get behind a police vehicle. Griffin died at the scene.
The wounded trooper sustained non-life-threatening injuries and was released from a hospital.
Santos was arrested on an arrest warrant out of New Mexico, where she has a pending aggravated assault with a firearm case, in which Griffin was her codefendant.