A woman from Bellwood, Illinois, was arrested after allegedly attempting to pay a corrections officer to help her smuggle narcotics to her boyfriend in jail, according to reports.
Kasandra Claudio, 23, was accused of helping to smuggle narcotics to her boyfriend, Dwain Johnson, 20, of Gary Indiana, Fox 32 Chicago reported.
Johnson was taken into custody in December 2020 after allegedly murdering and attempting to carjack a retired Chicago firefighter.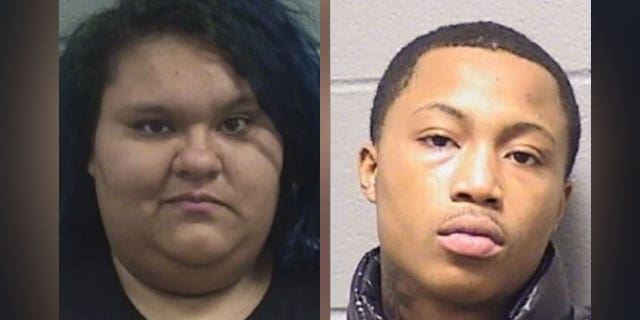 Kasandra Claudio and Dwain Johnson booking photos. Claudio was arrested for allegedly trying to smuggle drugs to Johnson in jail. (Cook County Sheriffs Office)
On Friday, Johnson and Claudio were charged with attempting to bring contraband into a penal institution and bribing a public official.
CHICAGO-AREA MAN WHOSE LIFE SENTENCE COMMUTED BY OBAMA CHARGED WITH ATTEMPTED MURDER
According to the report, the officer gave Johnson a phone number to give Claudio, with the idea that it was the officer's girlfriend's number.
Claudio arranged to meet with who she thought was the girlfriend at a mall parking lot last Thursday, but instead it was an undercover officer.