Jake Gyllenhaal on Saturday joined "Fox & Friends" to say his new film "The Covenant" is "a parable about doing good reluctantly" and represents the American "ethos" that no man is left behind.
The action-thriller is about a former U.S. Army sergeant risking his life to save his old interpreter from the Taliban, who once saved him during the war in Afghanistan. The R-rated film is now in theaters across the U.S.
Gyllenhaal said after watching the completed film, "I walked out feeling proud to be an American and knowing what we can do and what we can be."
AFGHAN INTERPRETER TELLS TREY GOWDY: AFGHANISTAN IS WORSE THAN BEFORE 9/11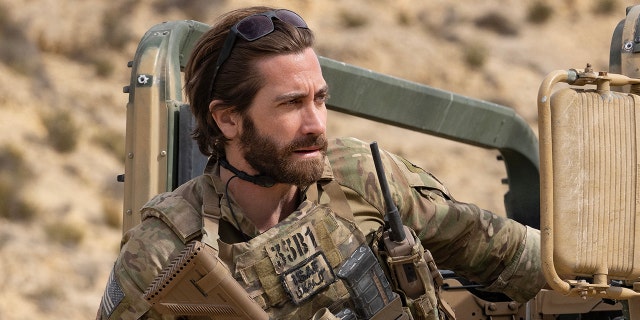 Dar Salim (left) as Ahmed and Jake Gyllenhaal (right) as Sgt. John Kinley in THE COVENANT, directed by Guy Ritchie, a Metro Goldwyn Mayer Pictures film. Credit: Christopher Raphael / Metro Goldwyn Mayer Pictures © 2023 Metro-Goldwyn-Mayer Pictures Inc.  All Rights Reserved. (Christopher Raphael / Metro Goldwyn Mayer Pictures © 2023 Metro-Goldwyn-Mayer Pictures Inc.)
Co-star Dar Salim said the movie depicts a message of unity.
"At the heart of it, you have two men from very different backgrounds, very different cultures," he said. "But at the end of the day, this movie shows us that much more unites us."
Gyllenhaal said, "America is made up of heroes, and sometimes reluctant ones, but that is our fabric; that is who we are."
Salim was born in Iraq and moved to Denmark, a nation also involved in the wars in Afghanistan and Iraq. He said his connection to the countries and the close ties between the two wars informed his performance.
He said, "I think it's a universal story more than it's about Afghanistan or Iraq. The actor said the script intrigued him because of its patriotic nature and the opportunity to work with director Guy Ritchie.
Gyllenhaal said the movie was "absolutely" informed by the real-life events of the U.S. troops exiting Afghanistan and the interpreters left behind. He said the Taliban has killed 300 Afghan interpreters since 2001.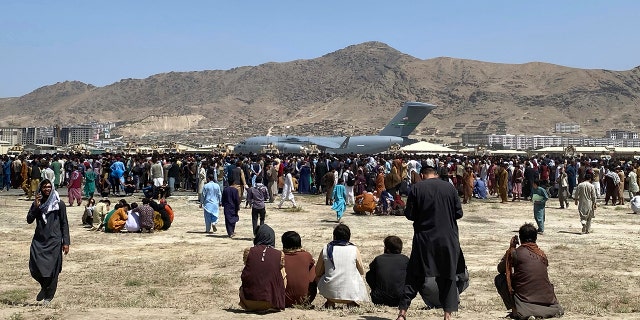 FILE – Hundreds of people gather near a U.S. Air Force C-17 transport plane at the perimeter of the international airport in Kabul, Afghanistan, Aug. 16, 2021. (AP Photo/Shekib Rahmani, File)
According to a 2022 Association of Wartime Allies report, The U.S. has issued over 23,000 visas to Afghans since Congress created the Special Immigrant Visa in 2006. However, at least 78,000 Afghan visa applicants are "left behind."
INSPECTOR GENERAL SLAMS 'UNPRECEDENTED' LACK OF COOPERATION FROM STATE DEPARTMENT ON AFGHANISTAN OVERSIGHT
A 38-year-old Afghan male waiting for Chief of Mission approval for his visa calls for U.S. support.
"Now interpreters have a lot of problems with money, threats in life. Changing houses every month because the United States government left us behind." He said, "I request the government and people of the United States to please help us and fight for us."
CLICK HERE TO GET THE FOX NEWS APP
Gyllenhaal told co-host Will Cain that the movie represents the "best of what we [the U.S.] can be."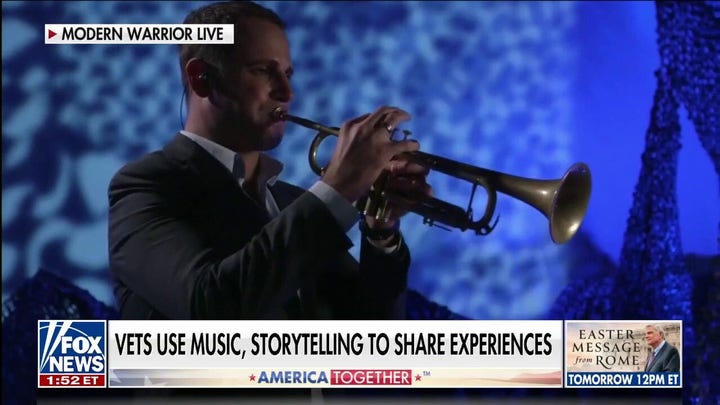 Video