After announcing new executive action on the environment Friday, the White House claimed a House Republican bill intended to lower energy costs would give kids asthma.
"It's a 320-page plan to kill jobs, fill our cities with smog and give asthma to our children," White House press secretary Karine Jean-Pierre said of the House GOP debt limit proposal, which includes H.R. 1, the Lower Energy Costs Act.
This afternoon, President Biden signed an executive order instructing federal agencies to incorporate "environmental justice" into their missions. The order directs agencies to address gaps in science and data to better understand and prevent the cumulative impacts of pollution on people's health. It also creates a new Office of Environmental Justice to coordinate the government's environmental justice efforts, and it requires agencies to notify nearby communities in the event of a release of toxic substances from a federal facility.
BIDEN EXECUTIVE ORDER TO REQUIRE AGENCIES TO MAKE 'ENVIRONMENTAL JUSTICE' PART OF MISSION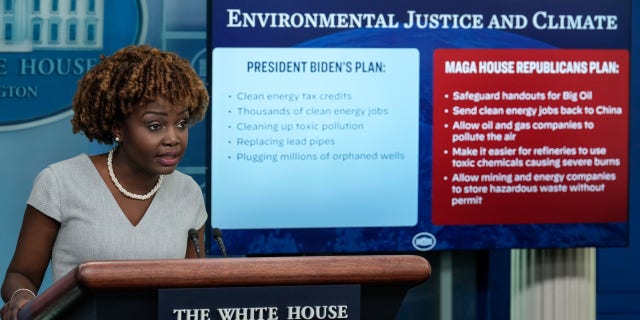 White House press secretary Karine Jean-Pierre speaks during the daily press briefing at the White House April 21, 2023, in Washington, D.C. (Drew Angerer/Getty Images)
Jean-Pierre used Friday's press briefing to contrast Biden's action with House Speaker Kevin McCarthy's energy proposals, accusing "MAGA House Republicans" of introducing "a ransom note holding our economy hostage."
The Republican energy bill is a wide-ranging rebuke of Biden's climate agenda on everything from Biden's rejection of the Keystone XL pipeline to restrictions on oil and gas development to proposed bans on gas stoves. The legislation, passed with bipartisan support in the House, would repeal taxes and regulations on oil and gas production and make it easier to develop fossil fuel energy. President Biden has vowed to veto the bill if it passes in the Senate.
MCCARTHY MOCKS 'MISSING IN ACTION' DEMS ON DEBT CEILING IN FLOOR SPEECH: 'MAPLE SYRUP MONTH'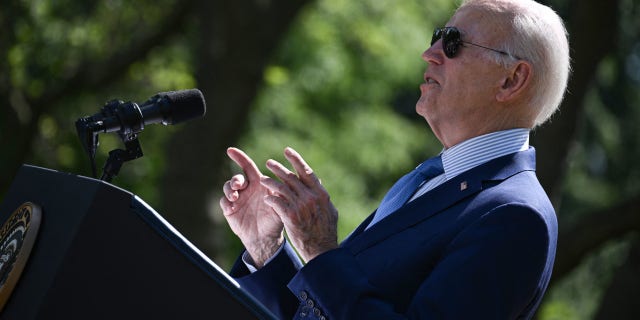 President Biden delivers remarks on new actions to advance environmental justice in the Rose Garden of the White House in Washington, D.C., on April 21, 2023. (BRENDAN SMIALOWSKI/AFP via Getty Images)
"It would make it easier for oil companies to use toxic chemicals that cause severe burns, damage people's eyes, and quite literally melt bones. It would severely weaken the Clean Air Act, sending us back to the times when cities across the country filled with heavy smog that dirties our air and poisons the lungs of our children," Jean-Pierre claimed.
"Speaker McCarthy's extreme MAGA proposals would be a climate and health disaster that President Biden won't allow on his watch," she added.
MCCONNELL RIPS BIDEN'S 'EXTREME POSITION' ON DEBT LIMIT IN FIRST SPEECH BACK AFTER CONCUSSION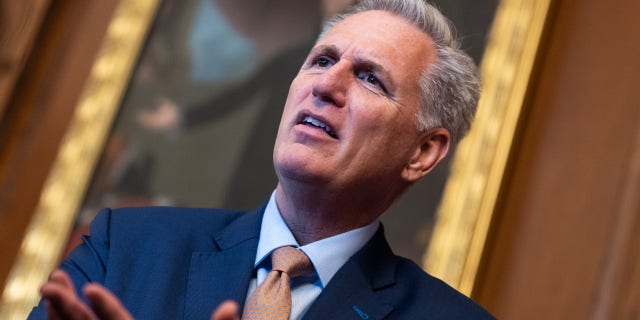 Speaker of the House Kevin McCarthy, R-Calif. has put forward a debt limit proposal that would roll back President Biden's climate agenda and reduce spending to 2022 levels.  (Tom Williams/CQ-Roll Call, Inc via Getty Images)
McCarthy said Monday that Republicans will soon vote on legislation that would lift the debt ceiling for one year and cap federal spending at fiscal year 2022 levels. The bill would roll back a significant portion of Biden's climate spending.
CLICK HERE TO GET THE FOX NEWS APP
"Republican spending Limits would return discretionary spending to 2022 levels. That was four months ago," McCarthy tweeted Friday. "I didn't hear a single Democrat complain about that level of spending then. Don't believe them when they try to scare you now."