Kate Middleton said Tuesday she's "still learning every day" about how to be a royal when she was asked about her role as the wife of the heir to the throne during an event for Mental Health Awareness Week.
The Princess of Wales was speaking to 11- to 19-year-olds from St. Katherine's School in Bristol, England, who were mentored by athletes from the Dame Kelly Holmes Trust. The children are part of the organization's On Track To Achieve program led by Liz Johnson, a gold medalist from the Paralympics.
Holmes, who founded the organization and won two gold medals in the 800 and 1,500 meters at the 2004 Olympics, told People magazine Middleton explained to the group she "had to learn [her role], and she's still learning every day."
The Olympian added that Middleton also said she's working on her public speaking skills.
Middleton looked casual in a yellow blazer and white top and pants at the official event a little more than a week after she was in full regalia along with the rest of her family at King Charles III's coronation.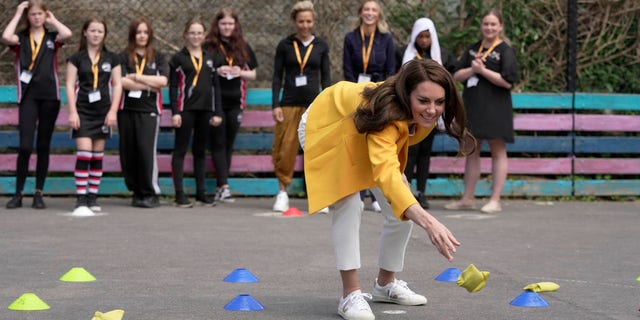 The Princess of Wales played a game with children at the Percy Community Centre in Bath.  (Kin Cheung/WPA Pool/Getty Images)
Childhood development and mental health are special issues for the Princess of Wales.
She launched the Heads Together campaign in 2019 with William and Prince Harry. She also started the Shaping Us campaign earlier this year, which focuses on early childhood.
In California, Prince Harry and Meghan Markle also marked Mental Health Awareness Week by visiting teens involved with AHA! Santa Barbara.