Gov. Kathy Hochul, D-N.Y., blasted the migrant crisis plaguing her state, insisting that New York state and New York City is "bursting at the seams" caring for illegal immigrants.
Hochul appeared on MSNBC's "Politics Nation" Saturday afternoon to discuss the ongoing border crisis which people have expected to continue following the expiration of the Title 42.
Though officials across border communities have stated that they did not receive the surge in migrants that they were expecting following the end of the policy, Hochul suggested that the crisis is continuing in her state.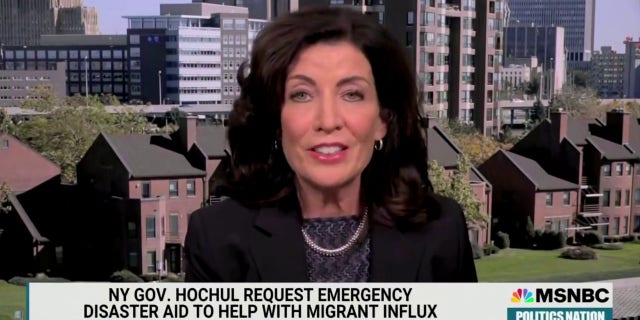 Gov. Kathy Hochul discussed the migrant crisis on MSNBCs "Politics Nation." (MSNBC)
"Hearing the numbers going down is good news, but it's small comfort to us because the word we're getting is that the majority of these individuals who are crossing, it's still high numbers, are coming to New York State. And we already have over 61,000, over 40,000 housed in New York City. They're bursting at the seams and Mayor Adams is doing the very best he can in a difficult situation," Hochul said.
NYC FACES IRE OF RESIDENTS OVER PLAN TO HOUSE MIGRANTS IN BROOKLYN ELEMENTARY SCHOOL GYM
Mayor Eric Adams has frequently spoken out on the difficulties of housing illegal immigrants in his city, despite New York City previously being touted as a "sanctuary city." Both Adams and Hochul have called for federal aid to assist in housing.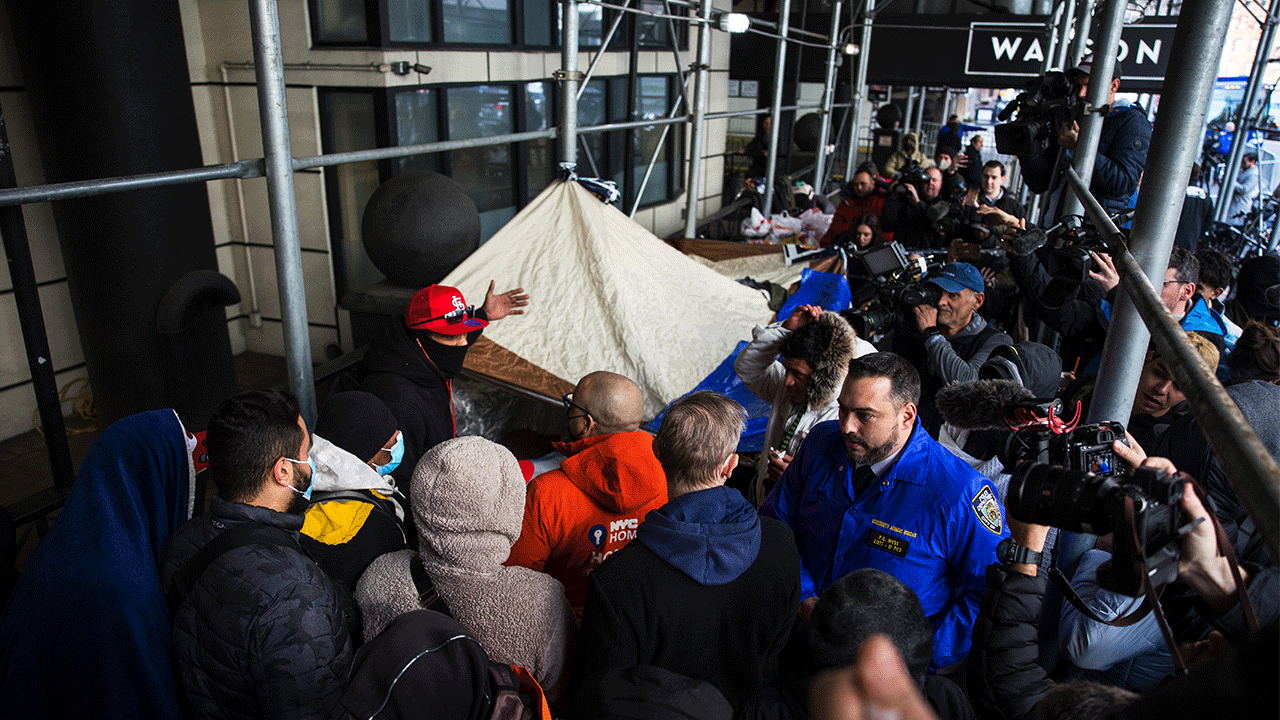 Migrants speak with NYC Homeless Outreach members as they camp out in front of the Watson Hotel after being evicted on January 30, 2023 in New York City.  (Michael M. Santiago)
She continued, "We have stepped in $1 billion from the state budget I just enacted. We also are giving legal help to people. And now we're in the position of trying to help find places for these individuals. I asked the federal government to give us emergency funding. I'm asking for federal installations like military installations to help out lot. Let us have a large field and operations. We can put up the tents. You're going to start seeing people living in tents, not just on the border, but in the streets of New York and across New York State because we've reached a breaking point."
BIDEN ADMIN, NY OFFICIALS SLAMMED AFTER HOMELESS VETERANS BOOTED FROM MIGRANT HOTELS: 'SLAP IN THE FACE'
"We need help, we need common sense immigration reform in a bipartisan way. But until that day, I can't hold my breath. I don't have the luxury of debating this in Congress," Hochul added. "I have to govern and manage a very difficult situation. I've been in constant communication with the White House, they're working hard to do the right thing. And we need some extra help right here in the state of New York."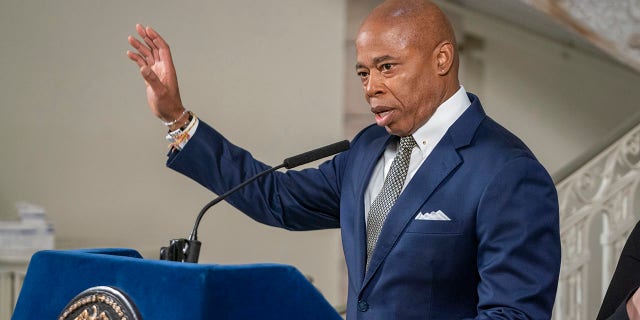 New York City Mayor Eric Adams has similarly criticized the migrant crisis.  (Barry Williams/New York Daily News/Tribune News Service via Getty Images)
CLICK HERE TO GET THE FOX NEWS APP
New York was recently criticized for allegedly expelling homeless veterans from upscale hotels to house illegal immigrants. Prior to the end of Title 42, Hochul issued an emergency order to prepare New York City to relocate migrants from the city to its northern suburbs.