Kyra Sedgwick says intimate time with Kevin Bacon has been "weird" in the past – particularly when it's caught on film.
The couple – who will celebrate their 35th wedding anniversary in September – have worked on several projects together, including the 1991 film "Pyrates." In the movie, they play characters Ari and Sam, a couple with such palpable chemistry that after sex they experience pyrokinesis, or the ability to control fire with their mind.
Although sparks were paramount to the storyline, Sedgwick shared that having intimate scenes with her husband in front of the camera was not so effortless, proving to be "much harder" than she anticipated.
"I really wanted to do the movie, and we couldn't find a male lead who would raise the money to make it," she shared with Yahoo! Entertainment of the filming process. "I asked Kevin if he would read the script, and he liked the idea of us doing it together. We didn't think, 'Is it weird for us to do a sex comedy?' At the time, we were newly married and had our first kid, so the idea of us playing this couple that has such great sex that the room spontaneously bursts into flame was really funny."
KEVIN BACON AND WIFE KYRA SEDGWICK GO VIRAL IN PRO-DRAG QUEEN DANCE VIDEO: 'DRAG BANS ARE BAD KARMA'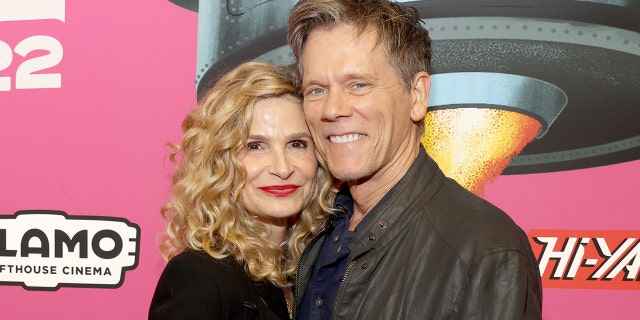 Kyra Sedgwick detailed her previous work filming sex scenes with her husband of 35 years, Kevin Bacon. (Rick Kern/Getty Images for Paramount Pictures)
Sedgwick and the "Footloose" actor share two children together: Travis, 33, and Sosie, 31.
Despite not having reservations about the project, Sedgwick, 57, said shooting the sex scenes with Bacon turned out to be a "weird" experience.
"It's weird because we're always like, 'Is this real or is it not?' As an actor, you sometimes have these dreams when you start a job where you're sleeping and they're filming you. With 'Pyrates,' I was [sleeping] with my husband and they were filming it," she recalled.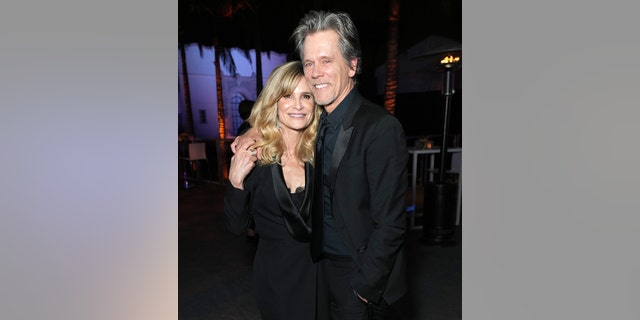 Kyra Sedgwick says the film's concept was intriguing and funny to both her and husband Kevin Bacon. (Kevin Mazur/VF23/WireImage for Vanity Fair)
"It's like, 'This can't be real – I'm having a dream.'"
When it debuted, the movie did not translate well with audiences, receiving predominately negative reviews.
KEVIN BACON SHARES HIS FIRST 'SELFIE' WITH WIFE KYRA SEDGWICK FROM 'THE OLD DAYS
"It's one in a slew of bombs that both of us have been involved with," Sedgwick said with a laugh. "Looking back, I'm sure we were devastated about that in the moment. I thought it was a cool, funny and very stylized movie. We took a chance, and we've done that a lot in our careers."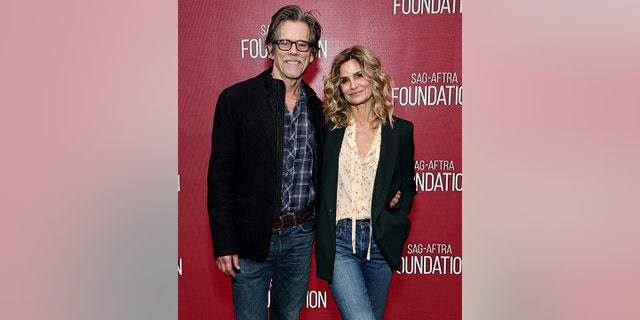 Kevin Bacon and Kyra Sedgwick went on to film similar intimate scenes together in other movies after "Pyrates." (Jamie McCarthy)
Although the situation was not what they expected, Sedgwick and Bacon were not deterred.
They went on to film other romantic scenes in collaborative projects they did, including the 1995 movie "Murder in the First" and the 2004 flick "The Woodman."
In addition to her husband, Sedgwick has had plenty of other big-name co-stars.
Two years prior to "Pyrates" was her film with "Top Gun" sensation Tom Cruise, "Born on the Fourth of July." Sedgwick reflected fondly on working with Cruise, especially since he was at the apex of his action-film career when they shot the drama.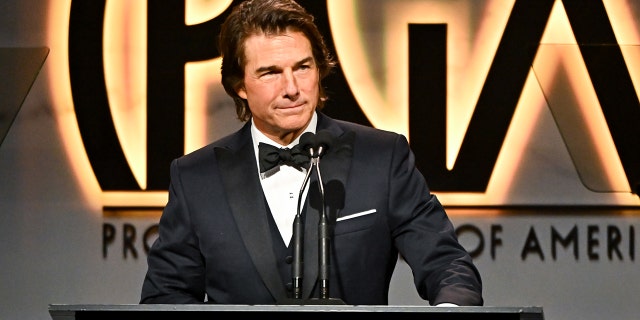 Kyra Sedgwick discussed the gravity of co-starring in "Born on the Fourth of July" with Tom Cruise. (Michael Buckner/Variety)
"I could tell it meant the world to him," said Sedgwick of Cruise taking on a dramatic role. "He had something to prove and he worked incredibly hard to prove it. And I loved that, because if you're not putting your heart and soul and guts on the line as an actor than you should just stay home as far as I'm concerned."
Cruise, who played real-life war Vietnam veteran Ron Kovic in the film, put on quite the performance, according to Sedgwick, who played his fictional girlfriend.
"I got to go on an emotional journey with Tom from being this young man who was about to go off to war and then changing into this activist after ending up in a wheelchair. His level of commitment is something that I admire and still feel every time I play a role."
CLICK HERE TO SIGN UP FOR THE ENTERTAINMENT NEWSLETTER
Reflecting back on her illustrious career, Sedgwick also divulged that while she was rising to fame, another actress, Julia Roberts, was also garnering attention.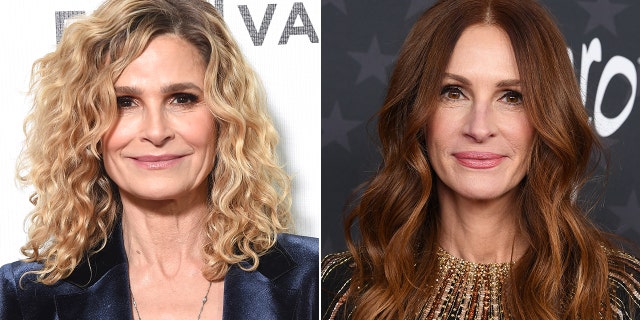 (Gary Gershoff/Getty Images | Steve Granitz/Getty Images)
"I had been working since I was 16 years old, and I think I was around 18 or 19 when I'd be auditioning and people would come up to me going, 'Has anyone ever told you that you look like Julia Roberts?'" Sedgwick said through a laugh. "And I was like, 'Who the f— is Julia Roberts? What are you talking about? Who is this person?'"
As Roberts distinguished herself in "Pretty Woman," Sedgwick began to resent the comparison.
"I would be like, 'I've been doing this so much longer than she has – it's so unfair'… I had some moments like that. But finally I totally embraced it – I mean, she's gorgeous and brilliant so all good here! But I do remember it was hard to get used to at first."
CLICK HERE TO GET THE FOX NEWS APP
Even with the comparisons, Sedgwick made it clear she didn't feel a real rivalry between her and Roberts. "I think that people try to gin up rivalries between women all the time, because that's another way to diffuse our power… And I just wasn't having it."