A liberal member of Australia's parliament called on the Victorian Minister for Women to stand up for women's sex-based rights and spoke out against trans-based policies she alleged are infringing upon biological women's rights in the country.
"Even for non-liberals, I don't believe it's controversial," Beverley McArthur, an MP for Western Victoria, said Monday as she called for women's privacy rights in certain spaces, particularly locker rooms and prisons. She also argued women should be given the opportunity to play sports among others who belong to the same biological sex.
"Women should have the right to play single-sex sports, to play safely and compete fairly with other women. They should have the right to use toilets without people with penises. They should have the right to serve jail sentences without men who have committed violent offenses against women…
ACADEMY OF BREASTFEEDING MEDICINE URGES USE OF 'CHESTFEEDING' AND 'PARENT'S MILK' IN NEW GUIDANCE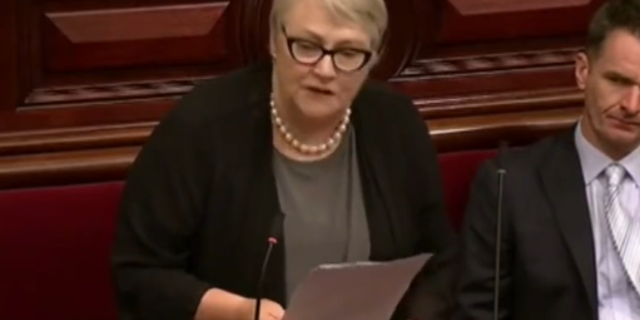 Australian liberal MP Bev McArthur delivers an impassioned speech about women's rights in parliament. (Twitter @BevMcArthurMP/Screengrab/Australian Parliament)
"They should have the right to privacy, safety and dignity, especially those who have suffered trauma and abuse largely by men when they need refuges and shelters," she said.
She called the push to maintain women's rights "common sense" and "fair," lamenting the shift to erase feminine terminology from language and change the trajectory of equality of the sexes.
"How did we ever move away from this?" she asked. "In part, it's the debasement of language, the advent of 'chest feeders' and 'people with cervixes'…"
She argued that nothing about her statement was "anti-trans" and expressed that people should be able to live according to their choices so long as those choices don't infringe on the rights of others.
NEW YORK TIMES QUIZ ON 'OFFENDING' WORDS REVEALS EMPLOYEES OPINIONS ON TERMS LIKE 'CHEST FEEDING'
McArthur's comments followed some Australian media and Victoria Premier Dan Andrews' attempts to frame a recent women's rally as "anti-trans."
A statement posted to McArthur's webpage on Monday called the allegedly regressive policies "appalling trends" that "have set back women's rights so badly."
"When I came into this Parliament in 2018, the last thing I thought I would have to defend is women's rights. Those hard-fought battles for recognition, I thought, were largely won, but we've gone backwards and now even making the same arguments is seen by some as prejudiced, hateful and an attack on other groups," she said.
"This is absurd," she continued. "I'm a liberal, and I believe that people can do, be, act, believe and speak however they want. That's their business right up until they infringe the rights of others."
MEDIA ARE AFRAID TO SPEAK AGAINST LIA THOMAS BECAUSE OF 'CULT-LIKE MENTALITY': KELLIE-JAY KEEN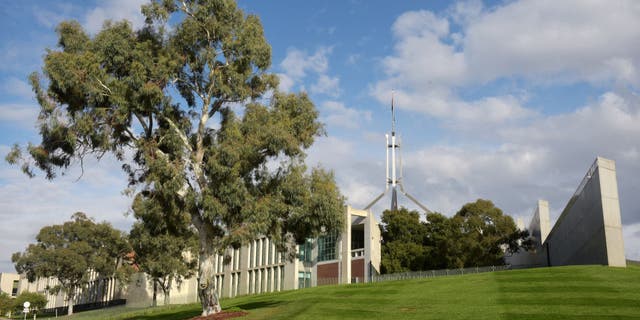 Parliament House stands in Canberra, Australia, on Wednesday, May 1, 2019.  (Photographer: Mark Graham/Bloomberg via Getty Images)
McArthur took to Twitter shortly after she spoke to Parliament, demanding biological women be heard and shared video of her impassioned speech.
"None of what I've said is aggressive, or anti-trans…I re-state my view that essentially, people should be able to be, and to act as they wish – so long as they respect the rights of others," she captioned, quoting from her speech.
"It's a sad state of affairs that in 2023 I would have to stand in Parliament to defend the rights of women and demand the Minister for Women start doing likewise," she continued.
McArthur's clip concludes, showing her argument that enacting policies that protect the rights of some do not infringe upon the rights of others.
CLICK HERE TO GET THE FOX NEWS APP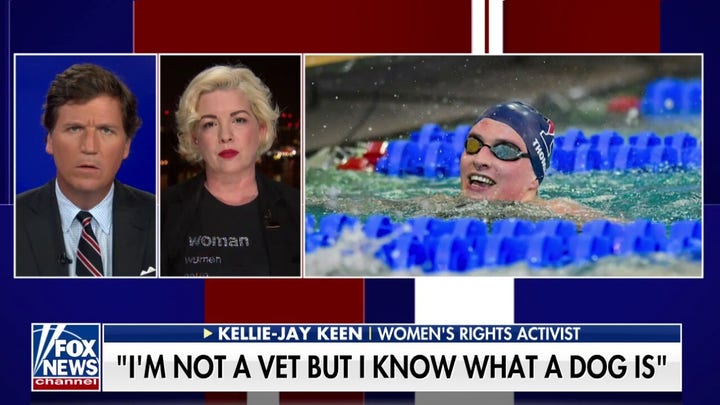 Video
The statement published to McArthur's webpage showcased her argument that the alleged infringement upon women's rights has extended beyond jails, prisons and sports and into protests.
"The worst irony, so horribly illustrated recently, is that even to protest against this crazy situation is now labeled as antagonistic, aggressive, prejudiced… it has become apparent that women cannot even hold their own protests without that space being invaded and their safety – and in some cases their integrity – being compromised," she said.
"As the saying goes 'the rot starts from the top.' So let the Minister for Women – and her Premier if he dares – say very loudly, very clearly, that women have the right to protest and speak up for women's rights."