Dave Danna weighed over 400 pounds last June when he had to ask for a seatbelt extender while taking a flight. He was equally mortified when he found himself out of breath by going up a single flight of stairs and realized he had maxed out the weight on his home scale.
These embarrassing moments were the catalyst for Danna to begin a dramatic weight-loss journey that's inspiring thousands of people online and even catching the attention of Arnold Schwarzenegger.
Through a disciplined diet and exercise regimen, Danna's already lost nearly 89 pounds in the past nine months.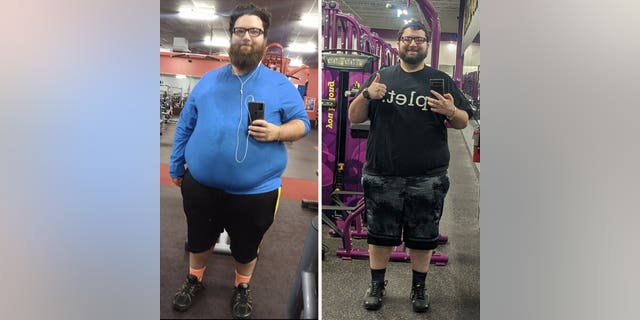 Dave Danna shares his weight loss journey on social media inspiring others with his positive attitude and discipline. (Courtesy: Dave Danna)
I'M A MOM AND A PHYSICIAN. 'FAT-SHAMING' FEARS ARE PUTTING OUR KIDS IN DANGER
The 31-year-old accountant who's also pursuing a graduate degree started sharing photos of his new routine on social media last year to hold himself accountable. Though he had tried diets and exercise many times before, he knew he needed something "drastically different" to succeed this time.
"It really was so I would have this trail of gym selfies and weigh-ins under my real name so I couldn't lie to myself. I had to hold myself accountable," Danna said.
Through social media, he's inspiring others with his hard work and positive messages. It's been a "humbling experience" and a "blessing," Danna said.
He recently acquired over 50,000 followers on Twitter and 10,000 on Instagram. Danna was pleasantly surprised one day to find out Arnold Schwarzenegger had responded to one of his gym videos with some encouraging advice.
"That was completely crazy. It was completely out of the blue," Danna reflected to Fox News Digital.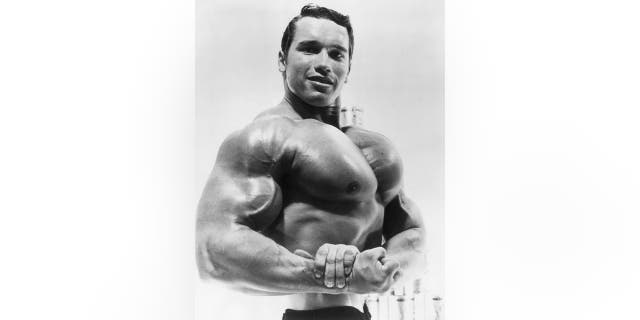 Circa 1967:  Studio portrait of Austrian-born bodybuilder Arnold Schwarzenegger flexing his torso in an advertisement for a German protein product.   (Getty)
WEIGHT LOSS MEDICATIONS OZEMPIC AND WEGOVY: WHAT TO KNOW BEFORE YOU STOP TAKING THEM
In the tweet, Schwarzenegger praised Danna's positive attitude and gave him pointers to make the bench press exercise more effective before saying he was proud of him.
"Your reps look fantastic, and I'm proud of you. Try dropping the weight and really making yourself feel that stretch and flex with slow reps, and you will be able to hold onto that feeling as you increase the weight again. You want that feeling on every movement in the gym," one tweet read.
He's also had success through his low-carbohydrate diet with lots of lean meat and vegetables. He's cut out processed foods, sugary drinks and alcohol. "Stopping to drink my calories… basically a lot of the American diet and going back to more natural foods," he said has worked the best for helping him lose weight.
Each weekday he wakes up at 4 a.m. to hit the gym for 30-45 minutes. Danna said he's taken a measured approach to his workouts to prevent injury. "For the first six months I didn't even touch any strength machine," he revealed.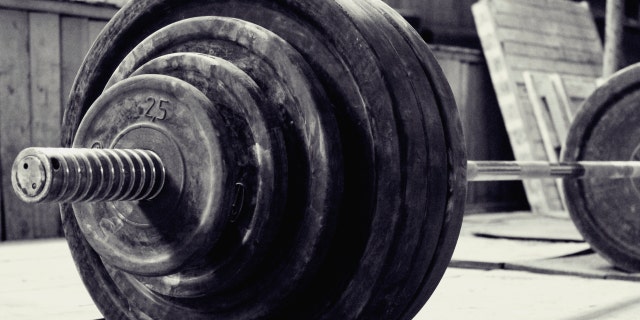 Dave Danna wakes up at 4 a.m. every weekday to work out at the gym. (iStock)
WEIGHT LOSS TRIUMPH: BRITISH WOMAN, 'EMBARRASSED' BY SIGHT OF HERSELF, LOSES ABOUT 140 POUNDS
After getting more comfortable using the equipment though and getting encouragement from Schwarzenegger, Danna said he's begun branching out more.
"Now that Schwarzenegger has encouraged me to keep him updated on some of my lifting, I'm trying some of those machines out, as well as doing some cardio at the end for 15-20 minutes every day," he said with a grin.
But Danna says having a healthy mind is just as important for weight loss.
"You have to have the right mindset… and you have to be willing to be very brutally honest with yourself [about] your mental health… in order to start that journey," Danna said. "Or it's not going to matter what diet or exercise you do," he said.
He had to start by realizing how his anxiety, depression and workaholic tendencies were impacting his diet and sleep.
His new routine also includes a quiet time of prayer and meditation after he gets home from the gym, as well as rest days on the weekend to focus on friends, family, faith and community. Since he's made changes to his whole lifestyle, Danna found the mental health gains even more impactful on his life than the physical ones.
While the body positivity movement would say there was nothing wrong with Danna at the size he was, being morbidly obese wasn't something to be celebrated, Danna said.
"It was one of the most negative experiences of my entire life…it wasn't acceptable for me to stay like that, given what I wanted to do [in life]."
Though it's difficult to take those first steps, Danna wants others struggling with their weight to realize it's much easier to keep going when you understand you aren't alone.
"What I wished I had realized early…was that everyone wants you to be successful," Danna said. Even as a novice who felt very uncomfortable at the gym, he said he found out that the intimidating "gym bros" were often the nicest and most supportive people he encountered.
"There's been more people [I've met] who want to support me and help me succeed than I could've ever imagined," he said.
"If you are in my shoes or haven't started your journey yet, just remember that everyone around you wants you to succeed and wants you to be there, and is on your team and has your back far more than you think they do right now," he stated.