Do something extra special for Mom this Mother's Day by putting together a tasty meal.
Each year, Mother's Day takes place on the second Sunday of May.
The day celebrates mothers across the globe and the role they have in the lives of their children.
THESE MOTHER'S DAY GIFTS AND GADGETS ARE UNIQUE, FUN AND AFFORDABLE
The first official Mother's Day was declared by President Woodrow Wilson on May 9, 1914.
President Wilson was responsible for establishing Mother's Day on the second Sunday in May, as we now celebrate it.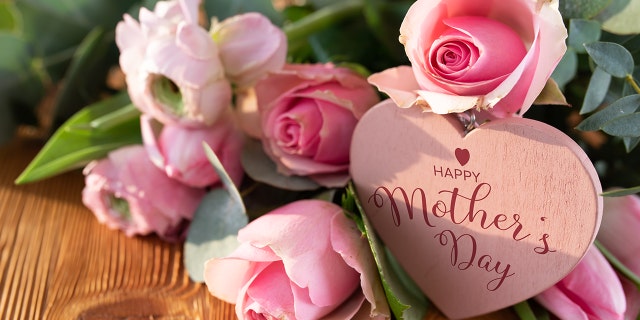 Mother's Day takes place every year on the second Sunday in May. (iStock)
Before the holiday became official in 1914, there were unofficial celebrations dating back even earlier. In 1908, West Virginia resident Anna Jarvis organized the first Mother's Day celebration on May 10, according to the U.S. Census Bureau.
Every year when Mother's Day rolls around, it's time to figure out what to do for Mom. You could always pick up a bouquet of flowers with a gift card tied to the front, or you could write down words of appreciation with a heartfelt card.
Another way you could show some extra love is through a meal to enjoy together.
A nice evening meal wraps up the day beautifully. 
Mother's Day brunch is always a popular option, but what about Mother's Day dinner?
A nice evening meal wraps up the day beautifully. It gives you time to chat with your mom over a home cooked meal. You could also invite the rest of your family over to enjoy some food.
These are three easy, yet delicious meals you can whip up this Mother's Day.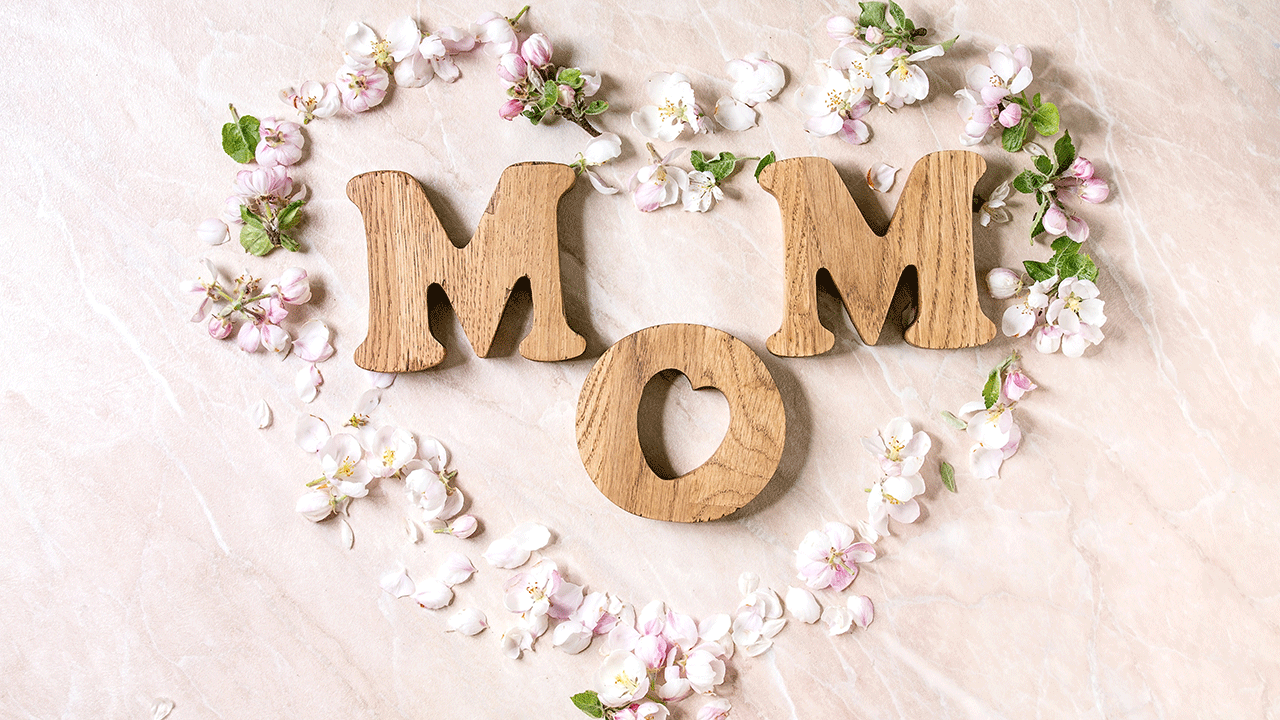 One loving gesture you could do this Mother's Day is put together a homemade meal. (Natasha Breen/REDA&CO/Universal Images Group via Getty Images)
Chicken Cordon Bleu
Burger bar
Homemade crabcakes
1. Chicken Cordon Bleu
Ingredients for chicken cordon bleu:
Chicken breast
Ham slices
Swiss cheese
Breadcrumbs
1-2 eggs
You will also need:
Toothpicks or cooking twine
Recipe for chicken cordon bleu:
For this recipe, begin by removing chicken breasts from the packaging and pounding them with a meat tenderizer. You'll want the breasts to be about ½ inch thick. This is because after you stuff them with ham and cheese, they will be more difficult to roll up.
Once pounded out, lay ham slices atop the raw chicken and Swiss cheese slices atop the ham. Roll the chicken slowly making sure all the ingredients are tightly spun. From here, lightly dip the chicken, ham and cheese rolls in whisked raw egg and then cover them in breadcrumbs.
MOTHER'S DAY: 10 THOUGHTFUL GIFT IDEAS FOR YOUR GRANDMOTHER TO SHOW HER LOVE AND APPRECIATION, TOO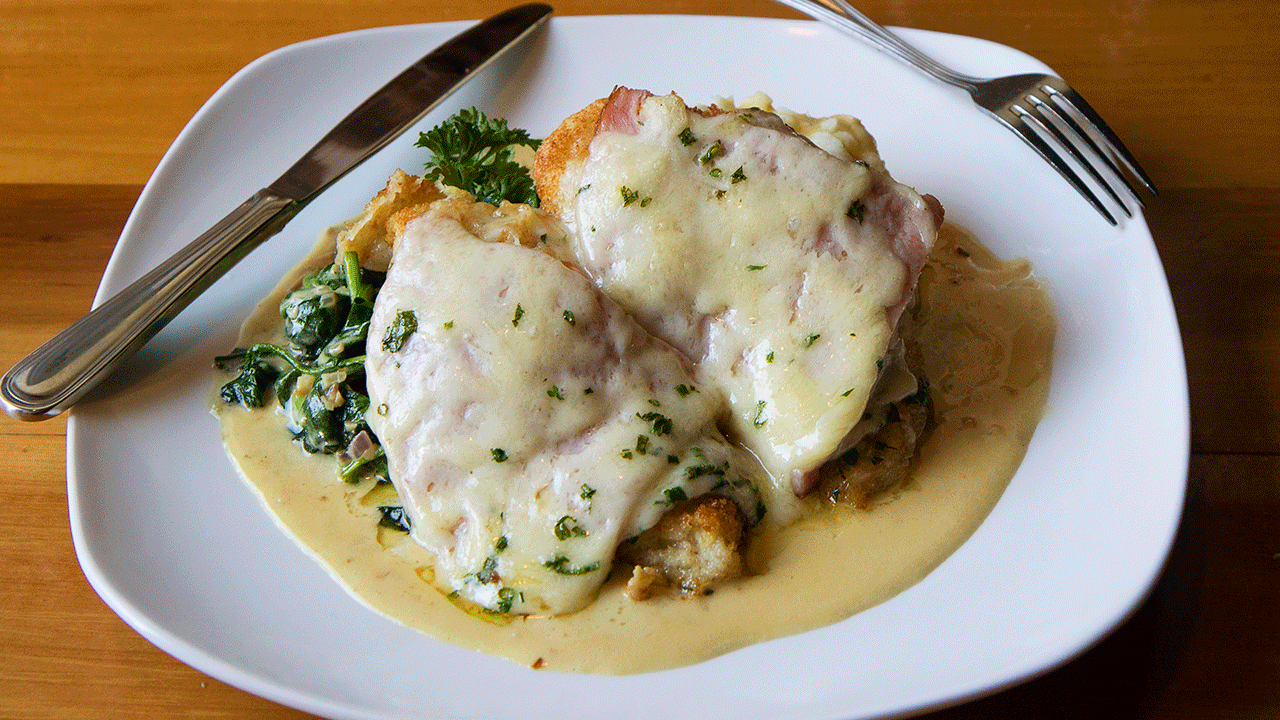 Chicken cordon blue requires just chicken, ham, cheese, breadcrumbs and eggs to make. (Carl D. Walsh/Portland Portland Press Herald via Getty Images)
Tie the meats and cheese together with cooking twine or hold the edges together with toothpicks.
Bake everything together in an oiled pan in the oven on 350 F for 30-35 minutes. Service with creamy Dijon sauce.
MOTHER'S DAY GIFTS THAT LAST A LOT LONGER THAN FLOWERS OR CHOCOLATE
2. Burger bar
DIY food bars come in all shapes and sizes, from charcuterie boards to taco and sundae bars and more. For this particular bar, we're going with big, juicy burgers surrounded by a wide variety of toppings and condiments.
Mother's Day is so close to Memorial Day, and that means grilling season is back.
Use this homemade burger recipe and show off your skills at the barbeque.
Ingredients for homemade burgers:
½ pound of lean ground pork
½ pound of lean ground sirloin
½ pound of lean ground veal
1 egg
2 tablespoons of breadcrumbs
1 tablespoon of salt
1 tablespoon of pepper
1 tablespoon of garlic powder
Homemade burger recipe:
In a bowl, combine all ground meat and crack one egg. Add two tablespoons of breadcrumbs as they hold moisture and will help keep the burgers juicy. Add salt, pepper and garlic powder and mix the meat together with your hands.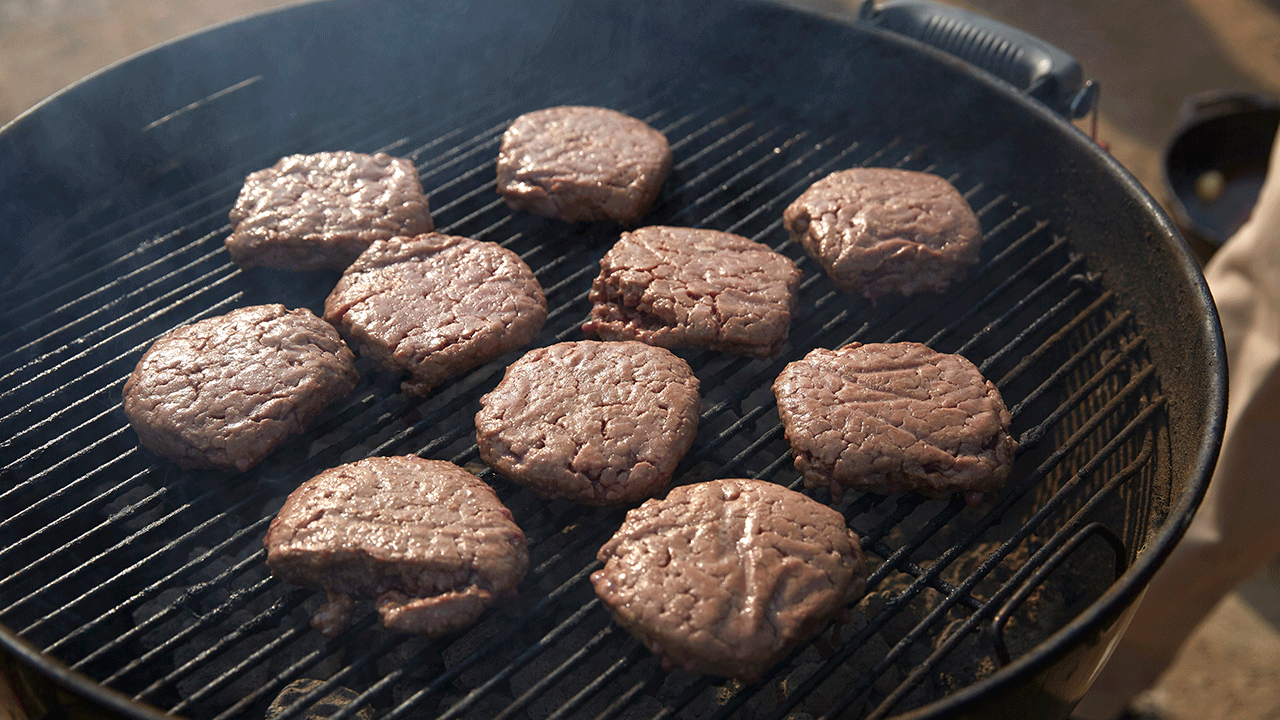 Mother's Day comes just in time for grilling season, making it the perfect opportunity to cook some burgers outside. (Kevin Liles /Sports Illustrated via Getty Images)
You'll want to mix until all the ingredients are fully combined, and you can't see chunks of breadcrumbs or strings of egg white or yolk.
Separate the meat into four ounce meat balls and smash them down into a patty. If you also want to include more thin patties for double cheeseburgers, separate them into two ounce patties and do the same.
If you have a grill, you'll want to follow the typical instructions of both turning it on and getting a flame going. If you don't have a grill, and you're cooking on the stove, heat a pan on high heat and add butter rather than oil. While you can use oil to cook the burgers, butter will add a more rich flavor.
For cooking a rare burger, cook one side for two minutes and flip for two additional minutes on the other side. For a medium rare burger, cook the meat patties on one side for two and a half minutes and the other side for the same. For a medium burger, cook for three to three and a half minutes on each side. For a well-done burger, cook for four to four and a half minutes on both sides.
CLICK HERE TO SIGN UP FOR OUR LIFESTYLE NEWSLETTER
Toppings for a burger bar:
You are going to need all the fixings to make this burger bar really spectacular. While the burger will be juicy and delicious in itself, the spread you provide for toppings could make or break the beef. Serve toppings in mini bowls with spoons, forks and knives or display them in a layered fashion as you would on a charcuterie board.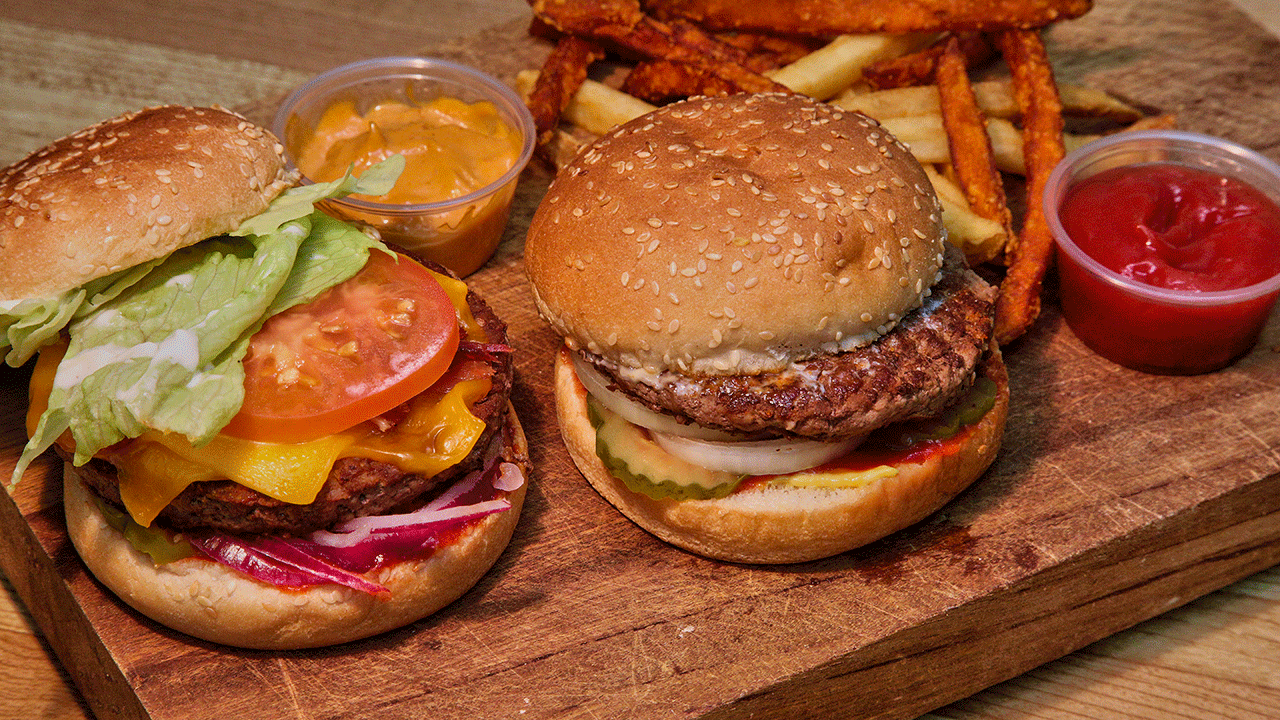 Top your burgers with whatever ingredients you enjoy. Lettuce, cheese, tomatoes and onions are all popular choices. (Creative Touch Imaging Ltd./NurPhoto via Getty Images)
Include any or all of the following toppings for a colorful and flavorful spread for your mom to enjoy.
Typical burger toppings:
Cheddar cheese slices
American cheese slices
Pepper Jack cheese slices
Bacon slices
Sliced white onions
Sliced tomatoes
Sliced pickles
Slices of Romaine or head lettuce
Ketchup
Mustard
Fancy burger toppings:
Cooked bacon
Gruyère cheese
Crumbled bleu cheese
Grilled or cooked portobello mushrooms
Roasted red peppers
Fried onion rings
Sliced avocado
Sliced jalapeños
Over easy or medium eggs
Garlic aioli
Beer mustard
Buffalo sauce
3. Homemade crab cakes
Ingredients for crab cakes:
1 pound of fresh lump crab meat
½ cup of white onion
1 cup of fresh parsley
2 tablespoons of breadcrumbs
½ cup of mayonnaise
1 tablespoon of mustard
1 egg beaten
Salt to taste
Pepper to taste
Butter
Homemade crab cake recipe:
Begin by combining fresh lump crab meat and finely chopped white onion to a bowl. You can either caramelize the onion on the stove beforehand or add them raw.
If you prefer a little crunch to your crab cakes, keep them raw.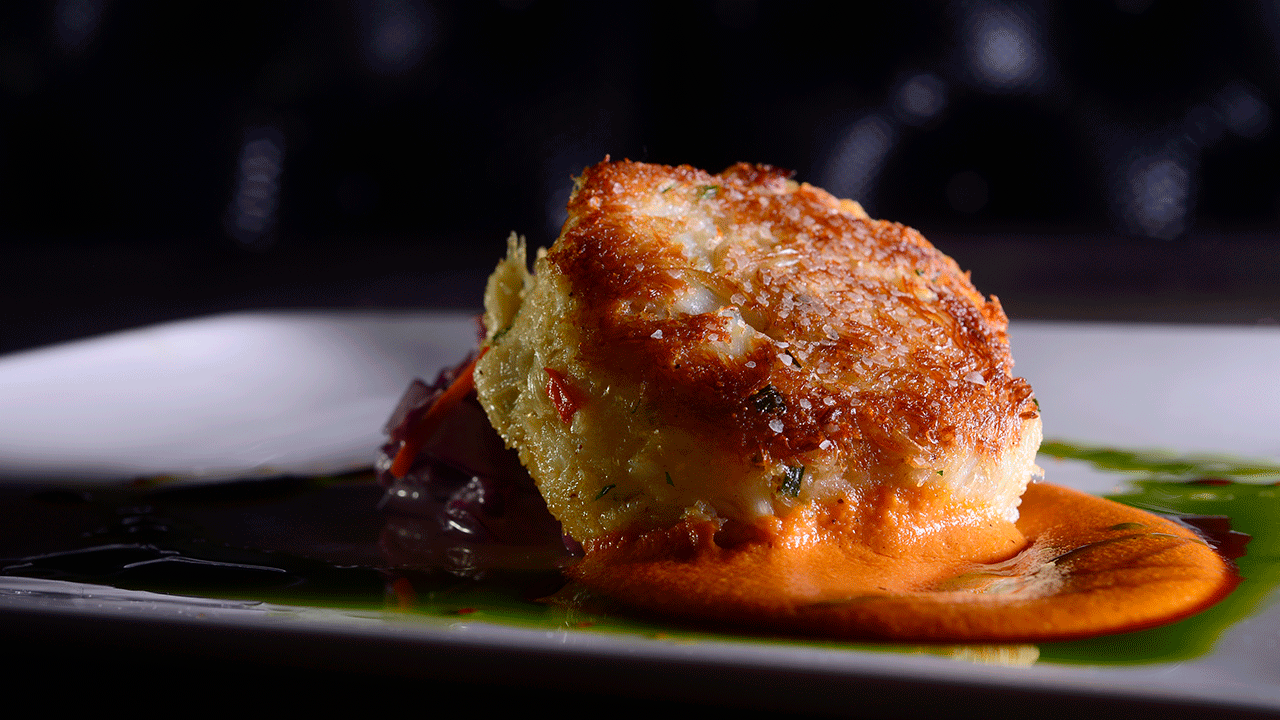 If your mom is a fan of seafood, consider making her a yummy crab cake. (Brent Lewis/The Denver Post via Getty Images)
Include chopped fresh parsley, breadcrumbs, mayo, mustard, egg, salt and pepper in the crab and onion mixture. Mix everything together carefully with your hands.
If you're using jumbo lump crab meat, you'll want to be careful not to break up the meat too much.
CLICK HERE TO GET THE FOX NEWS APP
Separate the crab meat mixture into 3 ounce balls and lightly press them into a patty. Preheat the oven to 350 F and bake the crab cakes on parchment paper for 25 minutes.
Serve with lemon slices and spicy mayo for dipping.