NASCAR has suspended driver Cody Ware indefinitely after he was arrested on a felony assault charge in North Carolina on Monday, according to jail records.
Ware, 27, was taken into custody by the Iredell County Sheriff's Office at around 10:30 a.m. and charged with felony "assault by strangulation-inflict serious injury" and misdemeanor assault on a female, according to online records.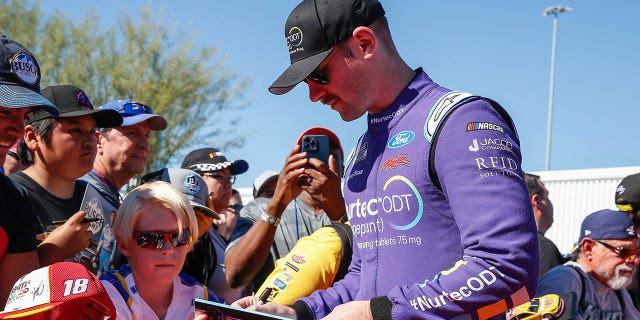 Cody Ware (#51 Rick Ware Racing Nurtec ODT (Rimegepant) Ford) signs autographs before the NASCAR Cup Series Championship Race on November 6, 2022 at Phoenix Raceway in Avondale, Arizona. (Photo by  (Kevin Abele/Icon Sportswire via Getty Images)
He was released hours later on a $3,000 bond.
NASCAR FINES DANIEL SUAREZ $50,000 AFTER BUMPING ALEX BOWMAN'S CAR ON PIT ROAD POST-RACE
NASCAR officials announced Ware's indefinite suspension on Twitter following his arrest.
According to a police report obtained by The Associated Press, the arrest stems from an alleged domestic violence incident that took place just before midnight on April 3.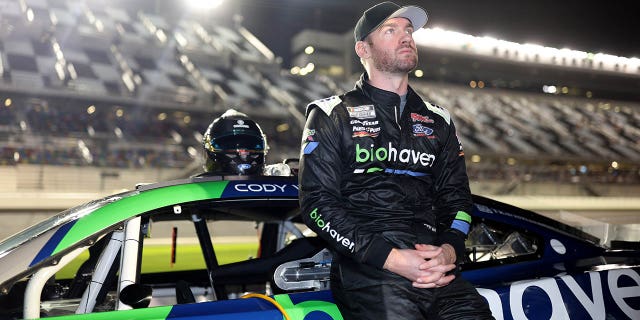 Cody Ware, driver of the #51 Biohaven/Jacob Co. Ford, looks on during qualifying for the Busch Light Pole at Daytona International Speedway on February 15, 2023 in Daytona Beach, Florida.  (James Gilbert/Getty Images)
News of Ware's arrest follows his absence from the NASCAR Cup Series dirt race at Bristol Motor Speedway on Saturday.
CLICK HERE FOR MORE SPORTS COVERAGE ON FOXNEWS.COM
Rick Ware Racing, which is owned by Ware's father, made the announcement, citing a "personal matter.
"Cody Ware will step away from racing this weekend at Bristol Motor Speedway to focus on a personal matter," the statement read. "Matt Crafton will drive the No. 51 Ford Mustang for Rick Ware Racing."
Rick Ware Racing issued a statement Monday stating that Ware is "fully cooperating with the authorities."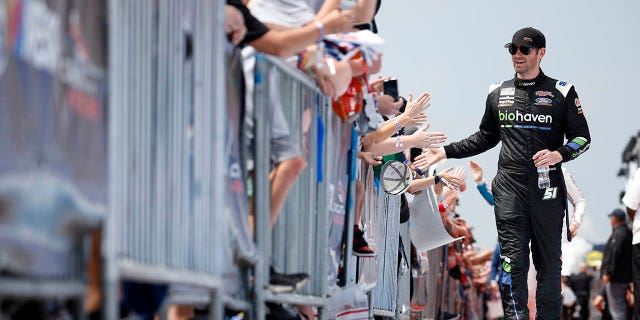 Cody Ware, driver of the #51 PublicSq Ford, greets fans on the red carpet prior to the NASCAR Cup Series EchoPark Automotive Grand Prix at Circuit of The Americas on March 26, 2023 in Austin, Texas.  (Chris Graythen/Getty Images)
CLICK HERE TO GET THE FOX NEWS APP
"We are aware of the incident regarding Cody Ware and his indefinite suspension from NASCAR competition. We understand NASCAR's position on this matter and accept their decision," the statement read.
"The matter is still under investigation and Cody is fully cooperating with the authorities, as due process takes its course. RWR is committed to continuing our multi-car efforts in the NASCAR Cup Series and is in the process of finalizing our plans for the No. 51 entry at Martinsville Speedway, and beyond."
Ware currently is 31st in the Cup standings.
The Associated Press contributed to this report.