Democratic North Carolina Gov. Roy Cooper declared a "state of emergency" on Monday in an attempt to stop a school choice bill from passing the state legislature.
Cooper released a video announcement where he declared a state of emergency, arguing that the state of public education is "no less important" than other emergencies.
"It's time to declare a State of Emergency for public education in North Carolina. There's no Executive Order like with a hurricane or the pandemic, but it's no less important," Cooper stated.
Cooper's announcement drew intense backlash on Twitter as an overreach of government power.
The Blaze columnist Auron MacIntyre wrote, "Executive governing in the permanent state of exception to save democracy."
"Neutering the abuse of emergency power by the executive branch should be priority number 1 for every state," Conservative account "PoliMath" tweeted.
School choice advocate Corey DeAngelis wrote, "they're losing control over the minds of other people's children. good. cry harder, @RoyCooperNC."
Purple Strategies partner Rory Cooper commented, "If I *were* the Governor of NC, I would've been declaring a state of emergency when the state was in the bottom third of states reopening schools and depriving children of the education they needed. Not once parents got involved and demanded something better for their kids."
"A 'state of emergency' over a bill passed by the legislature. Very serious," Americans for Prosperity vice president Casey Mattox joked.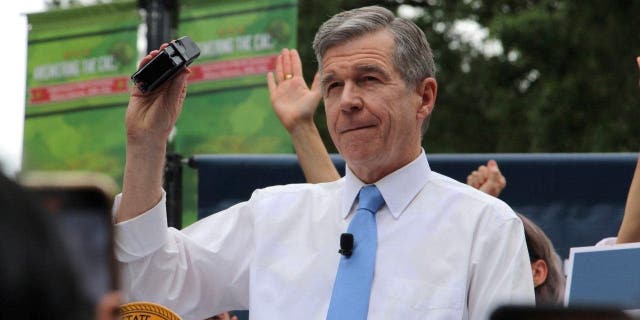 North Carolina Democratic Gov. Roy Cooper has been blasted for criticizing private school vouchers while sending his daughter to a private school. ((AP Photo/Hannah Schoenbaum))
NH LAWMAKER RIPS PARENTAL INVOLVEMENT IN EDUCATION: 'LET THE TEACHERS TEACH, AND SHUT UP'