Former Vice President Mike Pence and 107 other former world leaders on Tuesday signed a letter to President Joe Biden and his counterparts in Canada, the United Kingdom, and Europe calling on the West to adopt a tougher approach to Iran and support Iranian anti-government protesters demanding regime change.
The letter came after U.S. lawmakers last week expressed bipartisan support for the Iranian people demonstrating against their government and slammed Biden for in their view not having a coherent or comprehensive strategy toward Iran.
"We believe it is time to hold the leadership of the Islamic Republic of Iran to account for its crimes," the letter states. "We urge your nations to stand with the Iranian people in their quest for change and to take decisive steps against the current regime. This includes blacklisting the Revolutionary Guards (IRGC) and holding regime officials accountable for their crimes against humanity."
The IRGC is an Iranian military force designated by the U.S. as a terrorist organization.
As for Iran's internal situation, the letter highlights how Iran notoriously executed thousands of political prisoners in 1988, when current Iranian President Ebrahim Raisi was part of a so-called "death committee" that ordered several of the killings.
The world leaders also focus on ongoing nationwide anti-government street protests in Iran. The protests erupted across Iran in September when a young woman died in the custody of Iran's so-called morality police, which had allegedly detained her for wearing a hijab, an Islamic head covering that's mandatory for women in Iran, in an "improper" way.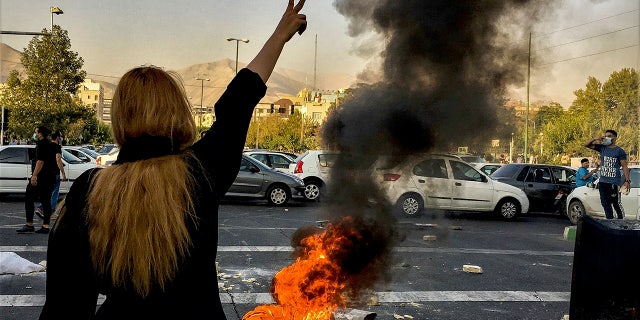 In this photo taken by an individual not employed by the Associated Press and obtained by the AP outside Iran, Iranians protests the death of 22-year-old Mahsa Amini after she was detained by the morality police, in Tehran, Oct. 1, 2022. (AP Photo/Middle East Images, File) (The Associated Press)
IRAN DEFIES US OVER EXECUTIONS, PUTTING THREE DEMOCRACY PROTESTERS TO DEATH
"We encourage you to stand in solidarity with the people of Iran in their desire for a secular and democratic republic where no individual, regardless of religion or birthright, has any privilege over others," the letter states. "Through their slogans, the Iranian people have made it clear that they reject all forms of dictatorship, be it that of the deposed Shah or the current theocratic regime, and thus reject any association with either."
The leaders also express support for the National Council of Resistance of Iran, a coalition of Iranian opposition groups, and a 10-point plan for democratic transition advocated by the coalition's leader, Maryam Rajavi.
Beyond Pence, an outspoken supporter of the Iranian opposition movement, signatories of the letter included former British Prime Minister Liz Truss, former Canadian Prime Minister Stephen Harper, and two former European Commission presidents, among dozens of other ex-heads of state.
NEW BIPARTISAN CAUCUS IN CONGRESS CONDEMNS POISONING OF IRANIAN GIRLS
CLICK HERE TO GET THE FOX NEWS APP
"Based on what I heard for the last 40 minutes, they [the Biden administration] don't really have much to say on the topic [of Iran]," said Hawley. "I didn't think it was a particularly useful briefing. I don't know if they really have a coherent strategy. If there is one, I didn't hear it … We didn't learn anything new or remotely classified."
The White House didn't respond to a request for comment for this story.