Pamela Anderson wowed the public in a sheer, sparkling bodysuit this week.
At an event in New York for H&M's collaboration with fashion design house Mugler, Anderson wore a see-through black, beaded jumpsuit as she walked the red carpet.
The jumpsuit covered Anderson from her neck all the way down to her toes, and she paired the look with an over-sized black blazer, covering her torso
The "Baywatch" star also donned a pair of Christian Louboutin heels and wore her trademark dark smokey eyes, and her signature blonde hair loose and tousled.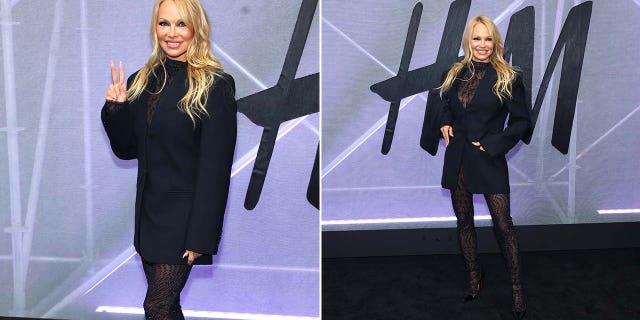 Pamela Anderson wore a sheer, sparkling black bodysuit to H&M's Mugler launch event in New York City. (Arturo Holmes)
Anderson has made a triumphant return to the spotlight after the release of her documentary "Pamela: A Love Story" on Netflix and her memoir, "Love, Pamela: A Memoir of Prose, Poetry, and Truth," earlier this year.
PAMELA ANDERSON THINKS SHE'S A 'LITTLE FUNNY-LOOKING' AND NOT A 'GREAT BEAUTY': 'CAN'T WAIT TO SEE MYSELF OLD'
But the Canadian-born's revelations haven't been without controversy.
In her memoir, Anderson claimed Tim Allen flashed her while on the set of "Home Improvement" in 1991.
She appeared on 23 episodes of the series as Lisa the Tool Girl, and in an excerpt from the book, Anderson alleged, "On the first day of filming, I walked out of my dressing room, and Tim was in the hallway in his robe. He opened his robe and flashed me quickly — completely naked underneath."
"He said it was only fair, because he had seen me naked. Now we're even. I laughed uncomfortably."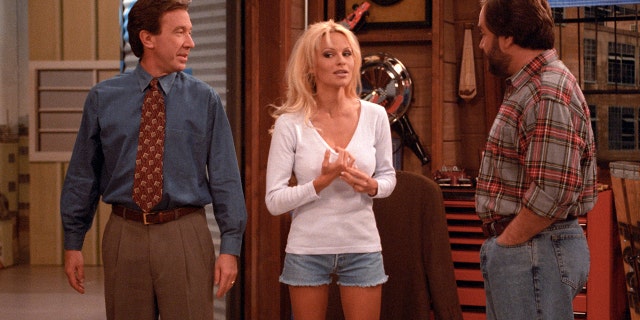 Pamela Anderson alleged that Tim Allen flashed her during her time on "Home Improvement." Allen has denied the allegations. (ABC Photo Archives/Disney General Entertainment Content)
Allen denied the claim, with a representative relaying a statement from the actor to Fox News Digital saying "No, it never happened. I would never do such a thing."
The "Toy Story" star was also spotted while out in Los Angeles and asked about the allegation.
PAMELA ANDERSON SAYS TIM ALLEN HAD 'NO BAD INTENTIONS' WITH HIS ALLEGED 1991 FLASHING
"Everybody loved her, but ABC is a little disappointed in her… memory, put it that way," he said at the time. "All of us at Disney and ABC really," he added. "She's a good girl, I really like her."
Anderson stood by her claim, detailing the interaction in an interview with ET Canada, saying, "It was our first day of filming and I was in my dressing room and I came out, and then he came out of his dressing room and he had this robe on and he goes," as she mimicked opening a robe.
"He closed it and goes 'Now we're even. I've seen you naked, you've seen me naked. Now we can start the show.'"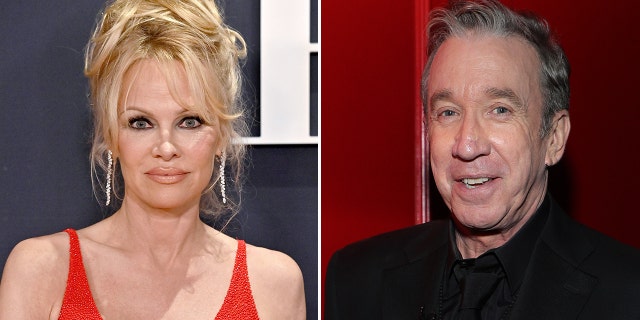 Pamela Anderson told ET Canada that Tim Allen "has to deny" allegations he exposed himself on the set of "Home Improvement" in 1991, given today's climate. (Axelle/Bauer-Griffin/FOX)
"How could you make that up?" Anderson added.
Anderson also faced controversy regarding her ex-husband, Tommy Lee, who she claimed was abusive during their relationship.
The former couple share two children, sons Brandon, 26, and Dylan, 25, both of whom participated in the documentary. Brandon also served as a producer on the film.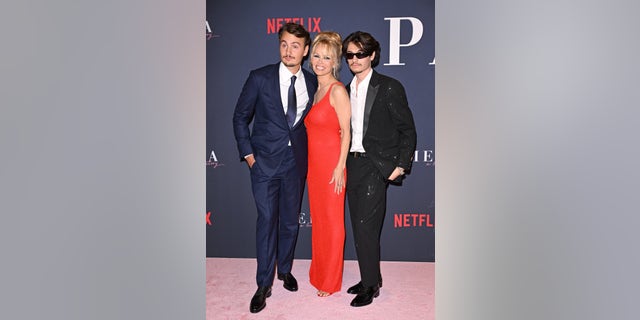 Pamela Anderson at the premiere of her documentary, "Pamela: A Love Story," with sons Brandon and Dylan. (Axelle/Bauer-Griffin/FilmMagic)
CLICK HERE TO SIGN UP FOR THE ENTERTAINMENT NEWSLETTER
Lee's wife, Brittany Furlan, appeared to mock Anderson, and faced backlash after she posted a now-deleted TikTok implying that if Anderson found out Furlan died, she wouldn't care.
The video used the app's "90s Pam Makeup" filter and was captioned, "Pls guys I gotta make jokes it's how I cope."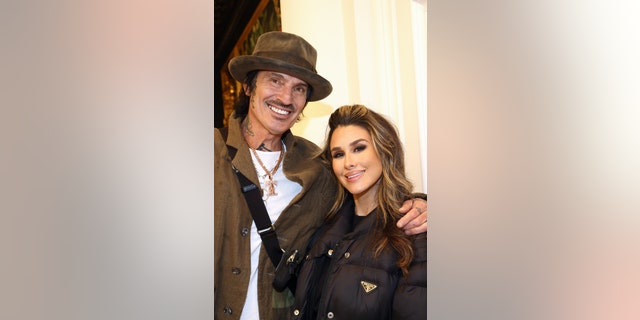 Tommy Lee and Brittany Furlan were married in 2019 on Valentine's Day. (Tommaso Boddi/GA/WWD via Getty Images)
Toward the end of the documentary, Anderson discusses wishing she was still in a relationship with Lee.
CLICK HERE TO GET THE FOX NEWS APP
Furlan posted a follow-up video after the deleted one, saying, "Don't worry about the people that are saying all the mean things they're saying. I don't live in that world, so please don't stress."
When Lee and Furlan were spotted out at dinner shortly after the social media storm, Furlan was asked about the video, and she responded, "It was a joke!"