Former senior Department of Energy (DOE) official Sam Brinton's latest arrest this week involves his alleged theft of a Tanzanian fashion designer's baggage in 2018, according to the designer's lawyer.
Peter Hansen, a Washington, D.C.-based attorney representing Tanzanian fashion designer Asya Khamsin, said police executed a search warrant at Brinton's Maryland residence Wednesday using information he shared with them. Khamsin has accused Brinton of wearing her custom designs that were packed in a luggage she reported missing in 2018 at Ronald Reagan National Airport in Washington, D.C.
"On March 9, 2018, her luggage was stolen from Ronald Reagan Washington National Airport," Hansen told Fox News Digital in a statement. "In her bag were more than a dozen bespoke articles of clothing that she had designed, along with a number of other valuable items for her business."
"Asya Khamsin's business was seriously damaged by this loss, which remained a mystery until she was recently alerted to photos of Sam Brinton wearing articles from her lost luggage. She thereafter contacted the authorities," he continued.
FEMALE FASHION DESIGNER ALLEGES SAM BRINTON WORE HER CLOTHING THAT DISAPPEARED FROM AIRPORT IN 2018
"Asya Khamsin, with aid of counsel, provided to the MWAA images of Mr. Brinton wearing her bespoke designs and lost jewelry, along with comparison photos showing them on models and Asya Khamsin herself," Hansen said.
"It is our understanding that the MWAA, in conjunction with the Montgomery County police, executed a search of Mr. Brinton's residence on Wednesday morning (May 17), and recovered a number of items matching the descriptions and images provided by Asya Khamsin," Hansen's statement added. "It is also our understanding that Mr. Brinton was arrested in the course of the search, presumably on the basis of the search results."
"Mr. Brinton is expected to face prosecution, and Asya Khamsin hopes to retrieve the seized items from the MWAA very shortly," he continued. "Asya Khamsin is leaving her options open for a civil suit against Mr. Brinton, but has not yet filed any civil complaint.
"Asya Khamsin is a Black, female, Muslim immigrant entrepreneur, and she has built a distinguished career over forty years. She deserves credit for her works, and she calls on publications which have displayed her work without attribution to correct this misuse of her work."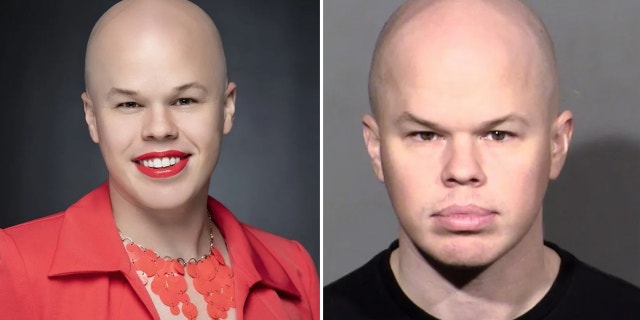 Brinton made headlines in 2022 after being appointed to the position that oversees nuclear waste policy at the Energy Department's Office of Nuclear Energy as a non-binary gender-fluid person. (Department of Energy | Las Vegas Metropolitan Police Department)
Brinton's latest arrest comes a month after Brinton — who made headlines last year after being appointed to the position that oversees nuclear waste policy at the DOE's Office of Nuclear Energy as a non-binary gender-fluid person — escaped jail time in two separate cases in Minnesota and Nevada also involving luggage thefts.
Brinton faced up to 15 years total for the two alleged thefts. However, in both cases, the presiding judges ruled jail time wasn't necessary.
The DOE announced on Dec. 12 that Brinton had departed the agency, but wouldn't comment on the reason for the departure.