Sen. Rand Paul, R-Ky., accused Dr. Anthony Fauci of "colluding" with teachers unions to spread COVID "hysteria" and promote school closures after the former NIAID director tried to absolve himself of responsibility in a recent interview.
Fauci struck a defensive tone during a New York Times interview this week in which he reflected on his and the government's response to the COVID-19 pandemic while deflecting blame for lockdowns and school closures, the consequences of which have become a congressional focus with Republicans at the helm.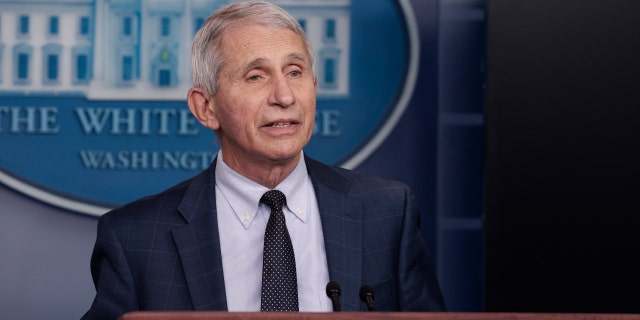 WASHINGTON, DC – DECEMBER 01: Dr. Anthony Fauci, Director of the National Institute of Allergy and Infectious Diseases and the Chief Medical Advisor to the President, gives an update on the Omicron COVID-19 variant during the daily press briefing at the White House on December 01, 2021 in Washington, DC. The first case of the omicron variant in the United States has been confirmed today in California. ( (Photo by Anna Moneymaker/Getty Images))
"This is hysteria, and it comes from the top down, and Fauci was essentially the top dog in town," Paul said Wednesday on "America Reports.""He was giving the information, wear a mask, one mask, two mask, cloth masks, he was giving the information that natural immunity didn't make any sense…Dr. Fauci discounted natural immunity none fo those policies happened and then we went overboard and closed the schools with no evidence of children were getting sick or dying."
Paul made the comment inside the U.S. Capitol where just moments earlier, Randi Weingarten, president of the American Federation of Teachers (AFT), one of the nation's most powerful teachers unions, was grilled by the Select Subcommittee on the Coronavirus Pandemic on her union's role in influencing public policy on school lockdowns.
RAND PAUL TORCHES FAUCI: 'ONE OF THE WORST JUDGMENT ERRORS' IN HISTORY OF PUBLIC HEALTH
Paul said Fauci's guidance on lockdowns and school closures was widely determined by Weingarten and other union leaders, who were "self-interested" and saw an opportunity to "get paid for not working" while causing immeasurable harm to U.S. students.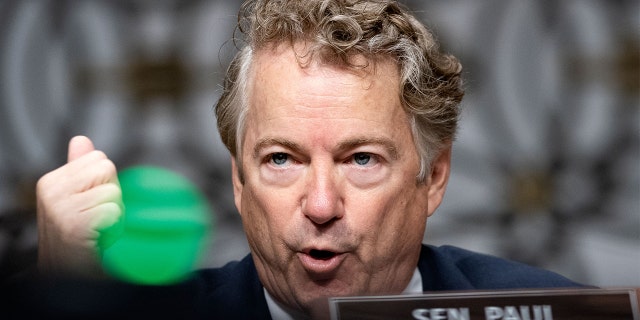 Sen. Rand Paul, R-Ky., questions Dr. Anthony Fauci, White House chief medical adviser and director of the NIAID, during a Senate Health, Education, Labor, and Pensions Committee hearing to examine the federal response to COVID-19 and new emerging variants on Jan. 11, 2022 at Capitol Hill in Washington. (Photo by GREG NASH/POOL/AFP via Getty Images) (GREG NASH/POOL/AFP via Getty Images)
"Without question, our kids have been damaged, and some of them will be a long time in the recovery. But also without question, there was collusion between Fauci and government public health experts and the internet, there was collusion with the teachers unions," he said. "We cannot stop the teachers' union from giving the advice they don't think the teachers should work, but we can stop the government from colluding with them in secret, to the detriment of our students."
Addressing critics like Paul and other Republican lawmakers demanding accountability for school and business closures, Fauci insisted that his recommendations were merely based on the CDC's public health guidance and that he in no way dictated public policy.
"Show me a school that I shut down and show me a factory that I shut down. Never. I never did," Fauci told the New York Times. "I gave a public health recommendation that echoed the CDC's recommendation, and people made a decision based on that. But I never criticized the people who had to make the decisions one way or the other."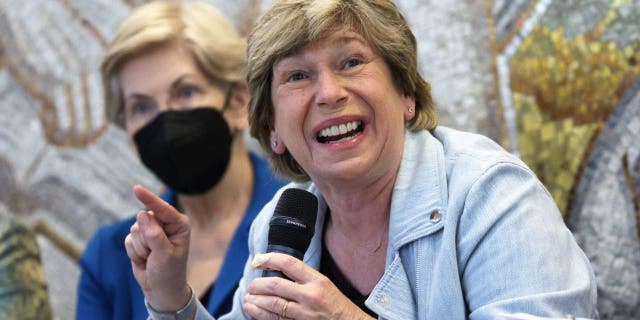 WASHINGTON, DC – JUNE 22: American Federation of Teachers President Randi Weingarten speaks as U.S. Sen. Elizabeth Warren (D-MA) listens at the AFL-CIO on June 22, 2022 in Washington, DC. The AFL-CIO held an event to discuss "the importance of student debt cancellation for American workers." (Photo by Alex Wong/Getty Images) ((Photo by Alex Wong/Getty Images))
Paul said Fauci's recommendations carried "the force of a mandate" in the United States, adding that the outspoken White House task force member was well aware of the weight his words carried.
DESANTIS TAKES SHOT AT TRUMP FOR FAUCI'S ROLE DURING ADMIN'S CORONAVIRUS RESPONSE
"If Dr. Fauci says you need to wear masks, and it's against the best practices not to wear a mask and I own a hotel, I'm fearful if I don't follow Dr. Fauci's recommendations, which are not really a mandate but they become a mandate," Paul said. "I'm going to be sued for not observing best practices, so his edicts did have the force of a mandate. Democratic governors largely throughout the U.S. followed them, schools followed them.
"You can look at the transcript when I challenged him on opening schools I gave him the information," Paul continued, referencing an earlier exchange with Fauci on the topic. "We put up six different charts of European countries and had gone back to school without increase or exacerbation of infection and it just went right by him.
"He's been on both sides of the school issue two dozen times," Paul continued. "Several articles summarized he's been on both sides of the issue almost [in] the same day some days…so people who have a self-interest in not working should not be the ones guiding us in what kind of policy we should have for having the schools open. Bad science, bad for students, once again, the teachers' unions is concerned with themselves and not necessarily with the students."
CLICK HERE TO GET THE FOX NEWS APP
"Everything they told us was wrong. It was a lie." he concluded.