A teenager from South Carolina has reportedly caught a fish that resembles a piranha, and it has resulted in a warning from wildlife authorities in the state.
Drew Patrick, 15, of Anderson, South Carolina, reeled in what has been identified as a pacu, according to local news station WYFF News 4.
Pacu is a common name for several species of freshwater Serrasalmidae (serrated salmon family) fish from South America, according to the Audubon Nature Institute, a wildlife museum in New Orleans.
OKLAHOMA AUTHORITIES ASK FISHING GUIDES TO REMOVE AN INVASIVE SPECIES FROM STATE WATERS: 'DO NOT RETURN IT'
While pacu fish are related to piranhas and have jagged square-like teeth that bear resemblance to human molars, the fish breed is not a piranha and has an omnivorous diet that consists of plants, seeds, nuts and insects, the Audubon Nature Institute reports.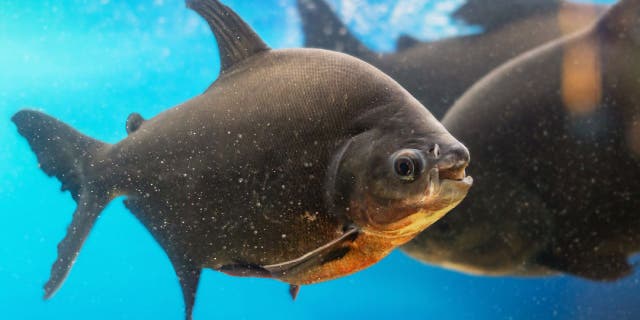 Pacu (also known as Colossoma macropomum) are an omnivorous South American fish that have human-like teeth. The fish is often stocked in aquariums. (iStock)
The pacu fish that Patrick caught reportedly came from Lake Hartwell, a manmade reservoir bordering South Carolina and Georgia.
Fox News Digital reached out to the South Carolina Department of Natural Resources for comment.
WYFF News 4 reported that the South Carolina DNR says pacu are occasionally caught in Lake Hartwell, but they're also illegal to release.
MINNESOTA FISHERMAN'S NORTHERN PIKE TIES WITH STATE'S 2-YEAR CATCH-AND-RELEASE RECORD: 'VERY LARGE FISH'
Resources on the South Carolina DNR website state that the wildlife agency considers pacu fish to be an invasive "aquatic exotic."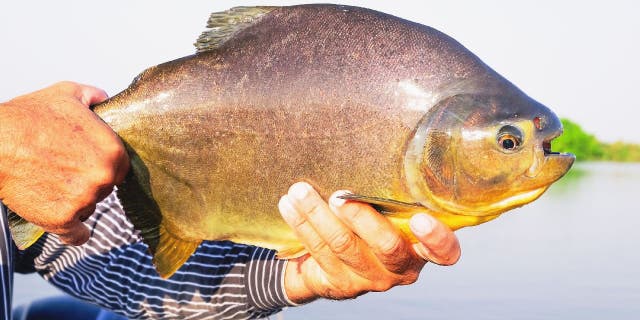 Pacu fish are caught for sport and as a source of food in South America, the continent the fish are native to. (iStock)
The fish has been listed in the South Carolina DNR's Aquatic Nuisance Species Program, which researches and manages invasive animals and plants that can adversely affect public waters.
"South Carolina Department of Natural Resources fishery biologists routinely capture or receive reports from anglers of South American pacu caught in state waters," the agency wrote in an Aquatic Invasive Species Management plan. "This relative to piranha is purchased as an aquarium pet and often released into the wild after it out-grows an aquarium."
"Combined, aquarium and pet releases make up 12 percent of all nonnative introductions to the state," the South Carolina DNR went on.
COLORADO FISHERMEN ORDERED TO PAY OVER $1K EACH AFTER CATCHING 463 POUNDS OF MICHIGAN FISH
In the United States, pacu fish have been found in more than 30 states, as well as Puerto Rico, the U.S. Virgin Islands and Guam, according to an updated map from the U.S. Geological Survey.
The Pacu Fish pic.twitter.com/o6d8genTVz

— OMGFacts (@OMGFacts) July 10, 2014
CLICK HERE TO SIGN UP FOR OUR LIFESTYLE NEWSLETTER
The Amazon River basin, Bolivia, Brazil, Colombia, Ecuador and Peru are typical native ranges for pacu, the geological agency reports.
"The impacts of this species are currently unknown, as no studies have been done to determine how it has affected ecosystems in the invaded range," the U.S. Geological Survey wrote regarding the invasive species. "The absence of data does not equate to lack of effects. It does, however, mean that research is required to evaluate effects before conclusions can be made."
CLICK HERE TO GET THE FOX NEWS APP
Pacus are reportedly farmed and eaten in various countries around the world.