Former British Prime Minister Sir Winston Churchill, the son of an American mother whose composed yet combative leadership in World War II inspired the United Kingdom's "finest hour," was declared an honorary United States citizen on this day in history, April 9, 1963.
The proclamation was issued by President John F. Kennedy under the authority of act by the 88th Congress.
Churchill is "a firm and steadfast friend of the American people and the American nation" whose "bravery, charity and valor, both in war and in peace, have been a flame of inspiration in freedom's darkest hour," read the president's proclamation.
ON THIS DAY IN HISTORY, APRIL 8, 1974, HANK AARON BREAKS BABE RUTH'S HOME RUN RECORD
Churchill is the first of only eight people made honorary citizens of the United States and one of only two to receive the title while still alive.
Mother Teresa, so honored in 1996, was the other.
"I have been in full harmony all my life with the tides which have flowed on both sides of the Atlantic against privilege and monopoly and I have steered confidently toward the Gettysburg ideal of government of the people, by the people, for the people," Churchill told a joint session of U.S. Congress in Washington, D.C., on Dec. 26, 1941.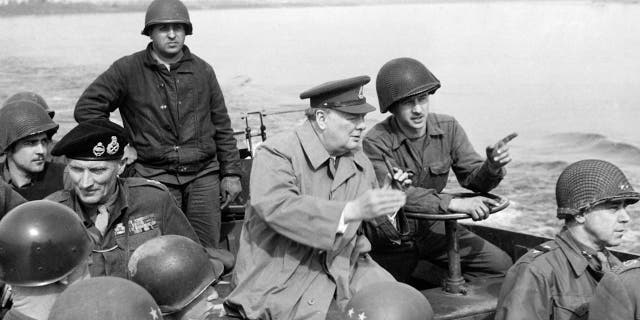 British Prime Minister Winston Churchill traveling with American GIs on a U.S. landing craft on the Rhine River with British Marshal Bernard Law Montgomery, U.S. General William Hood Simpson and U.S. General William Shaffer Key, March 25, 1945.  (Mondadori via Getty Images)
The speech came just three weeks after Japan's attack on U.S. forces at Pearl Harbor launched America into World War II in both Asia and in Europe — an entry into the conflict Churchill had long publicly hoped for as "rescue" in Britain's fight against Nazi Germany.
"Churchill is a firm and steadfast friend of the American people and the American Nation." — President Kennedy 1963 proclamation
"My mother was American and my ancestors were officers in Washington's army. I am myself an English-speaking union," Churchill reportedly said, according to an account by former Supreme Allied Commander and President Dwight Eisenhower.
Churchill's mother, Jennie (Jerome), later Lady Randolph Churchill, was born in Brooklyn.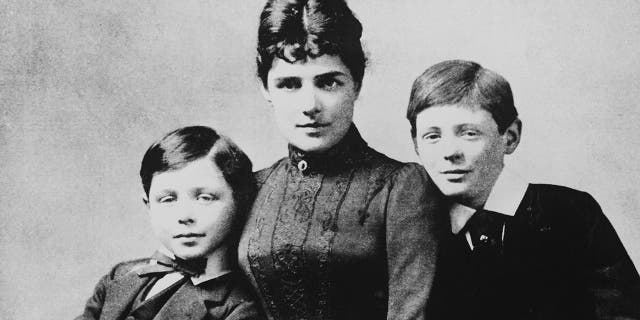 A young Winston Churchill (1874-1965), right, the future British prime minister, with his mother, the American heiress Lady Jennie Jerome, and his brother, left, John Strange Spencer-Churchill.   (General Photographic Agency/Getty Images)
She was the daughter of U.S. financier Leonard Jerome, who traced his family roots in America to the early 1700s.
His rare honor from the United States was bequeathed not because of birthright, but because of his resolute and fearless leadership in the Allied effort against Nazi Germany in World War II.
EASTER THEMES RESONATE WITH PRO ATHLETE TURNED PASTOR AFTER 10-YEAR HEALTH BATTLE: 'GOD REDIRECTED ME'
"We shall defend our Island, whatever the cost may be," Churchill announced to the British people before Parliament on June 4, 1940, just three weeks after becoming prime minister.
"We shall fight on the beaches, we shall fight on the landing grounds, we shall fight in the fields and in the streets, we shall fight in the hills; we shall never surrender."
He buttressed his nation's resolve two weeks later, telling Parliament the struggle would be remembered for 1,000 years as Britain's "finest hour."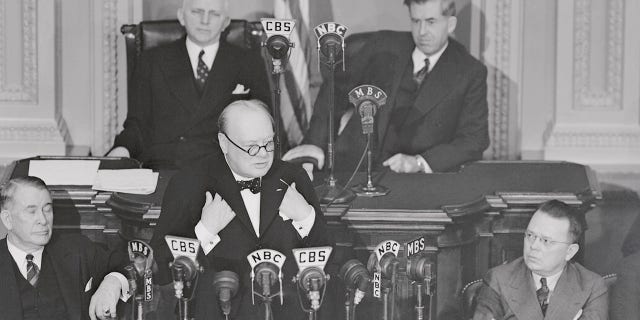 This is an historic moment set by Winston Churchill when he addressed both houses of Congress, members of the Supreme Court, the Cabinet and Diplomatic Corps in 1941. In the rear are Rep. William P. Cole of Maryland; Speaker Pro Tem. of the House; and Vice President Henry A. Wallace. (Getty Images)
Churchill quietly and desperately worked behind the scenes with President Franklin D. Roosevelt to gain America's entry into the war on behalf of the United Kingdom as she "stood alone" against Nazi Germany following the shocking collapse in six weeks of France, Belgium and the Netherlands in 1940.
"The British Fleet would carry on the struggle, until, in God's good time, the New World, with all its power and might, steps forth to the rescue and the liberation of the old." — Churchill, 1940
He publicly beseeched the American people,without mentioning the United States by name, to rally to the aid of Europe in the same "We shall fight on the beaches" speech of 1940.
He said at its end: "Even if, which I do not for a moment believe, this Island or a large part of it were subjugated and starving, then our Empire beyond the seas, armed and guarded by the British Fleet, would carry on the struggle, until, in God's good time, the New World, with all its power and might, steps forth to the rescue and the liberation of the old."
ON THIS DAY IN HISTORY, NOV. 30, 1874, INDOMITABLE BRITISH STATESMAN AND WWII HERO WINSTON CHURCHILL HIS BORN
The United States and United Kingdom, joined by heroic allies from Canada, British Commonwealth nations and patriots within the occupied nations of Europe, miraculously delivered that liberation less than three-and-a-half years after the attack on Pearl Harbor.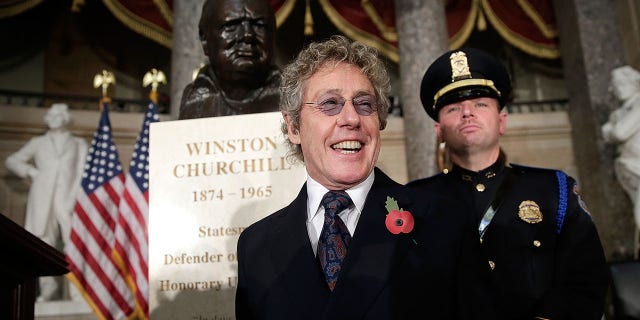 Roger Daltrey, lead singer of The Who, stands by a bust of former British Prime Minister Winston Churchill prior to a dedication ceremony in Statuary Hall of the U.S. Capitol on Oct. 30, 2013, in Washington, D.C. The bust was authorized and passed by the House of Representatives shortly before the 70th anniversary of Churchill's wartime address to Congress.   (Win McNamee/Getty Images)
"In August 1962, Sen. Stephen M. Young of Ohio spoke about Churchill as 'the hero of two nations' and introduced the first bill proposing honorary citizenship," writes America's National Churchill Museum.
CLICK HERE TO SIGN UP FOR OUR LIFESTYLE NEWSLETTER
"Due to his failing health, Churchill was unable to attend Kennedy's signing to receive his honorary citizenship in person, but his son Randolph came in his place and expressed Churchill's 'solemn and heartfelt thanks.'"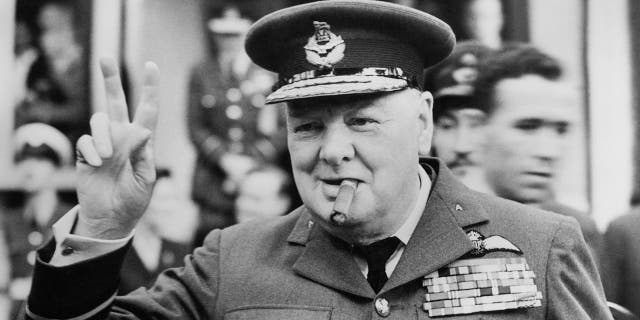 Winston Churchill (1874-1965) gives his famous v-sign as he opens the new headquarters of 615 (County of Surrey) Squadron of the RAAF (Royal Auxiliary Air Force) at Croydon, 1948.  (Central Press/Hulton Archive/Getty Images)
Sir Winston Leonard Spencer Churchill died on Jan. 24, 1965, at age 90.
A crowd of about a million people lined the streets of London for his state funeral, the last in the United Kingdom before Queen Elizabeth's death in 2022. An estimated 350 million people around the world watched the procession and ceremony on television.
CLICK HERE TO GET THE FOX NEWS APP
He remains revered on both sides of the Atlantic.
Churchill topped the list of 100 Greatest Britons of all time in a 2002 BBC poll, ahead of a formidable collection of his fellow countrymen, including Diana, Princess of Wales, William Shakespeare, Queen Elizabeth I and John Lennon.