A collection of extremely rare Magic: The Gathering cards are expected to fetch as much as $180,000 when they are auctioned off on Friday, April 21.
Included among the cards that are going up for auction is a complete 310-card set of "Legends," the third expansion pack sold by Magic: The Gathering, which was released in June 1994.
The auction will also feature a factory-sealed unlimited starter deck, which is expected to sell for at least £10,000-12,000, or about $15,000 U.S. dollars.
A starter deck is a random collection of 60 cards from a set.
QUIZ! WHAT'S IN A NAME? TRY YOUR HAND AT GUESSING THE REAL STORIES BEHIND SOME FAMOUS NAMES
Magic: The Gathering is a collectible card game produced by Wizards of the Coast.
The first set of these collectible cards were released in August 1993, according to the Wizards of the Coast website.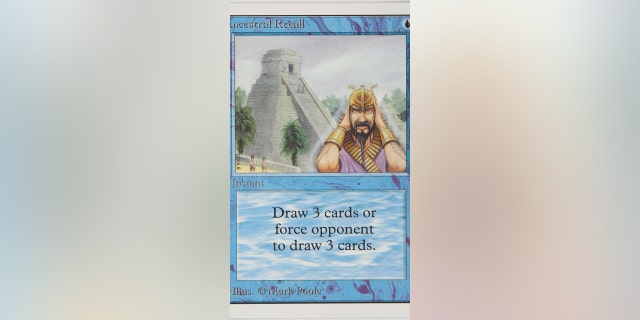 Ancestral Recall is one of the "Power Nine" Magic: The Gathering cards. (SWNS)
Some 40 million people around the world play Magic: The Gathering in both paper and digital formats, said the news agency SWNS.
Millions of dollars are awarded each year in major tournaments, the news service also said.
The collection that will be auctioned on Friday is "a phenomenal catalogue of rarities," said Roy Raftery, the head of trading cards at Ewbank's, the Surrey, England-based auction house that is selling the cards.
WORDLE'S LATEST PUZZLE: HAS THE GAME GOTTEN HARDER?
Raftery told SWNS that he helped curate the cards that are being sold.
"We have been able to bring together some of the rarest cards and sets you will find anywhere in the world, sourced from key people in the history of Magic: The Gathering going back to its earliest days, as well as from the most dedicated collectors over the years," he told SWNS.
Raftery hinted that even rarer items may be coming in the near future. "I'd like to say it doesn't get much better than this, but then I know what we have in store for later in the year."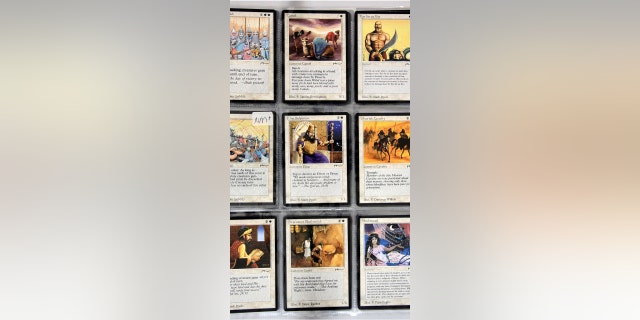 A complete "Arabian Nights" expansion pack from Magic: The Gathering will be auctioned off on Friday, April 21. (SWNS)
That information will be "unveiled soon," he said.
Another item being sold, a complete set of the Magic: The Gathering's first-ever expansion pack "Arabian Nights," is estimated to sell from anywhere from £5,000-10,000, or approximately $12,500 U.S. dollars.
The set was released in December 1993.
GAMING YOUTUBER IN JAPAN CLAIMS PET FISH TOOK OVER NINTENDO SWITCH, WENT ON SHOPPING SPREE
The auction also features highly sought-after collectible single cards, including a 1993 Unlimited edition "Mox Sapphire" card, a 1993 Beta "Mox Emerald Card," an "Ancestral Recall" unlimited edition card and a "Mox Jet" unlimited edition card.
Those cards are estimated to be worth anywhere from £2,500-5,000 each — or about $3,000 to over $6,000 in U.S. currency.
KIDS MAY LIKE VIDEO GAMING, BUT HEALTH EXPERTS FRET ABOUT THE 'FUEL' THEY MAY BE USING TO 'WIN'
The England-based auction house has timed its scheduled auction due to an anticipation of interested buyers in the United States.
The auction will begin at 6 p.m. local time, which is 1 p.m. EDT, said SWNS.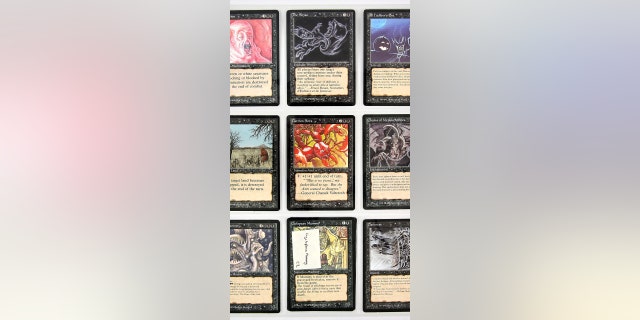 A complete set of the "Legends" expansion pack from 1994 will go up for auction on Friday. (SWNS)
The cards' rarity is one thing that's driving interest.
Ancestral Recall, Mox Emerald, Mox Jet and Mox Sapphire are four of the "Power Nine" cards in Magic: The Gathering, according to the Wizards of the Coast website.
MARK ZUCKERBERG BASEBALL CARD GOING UP FOR AUCTION
While these cards are not legally playable in most formats, they remain highly sought-after collectors' items, notes the website.
Some may balk at the thought of spending thousands of dollars for a piece of embossed cardboard — yet the valuation of the cards being sold at Ewbanks are not even close to being the most expensive Magic: The Gathering cards ever sold.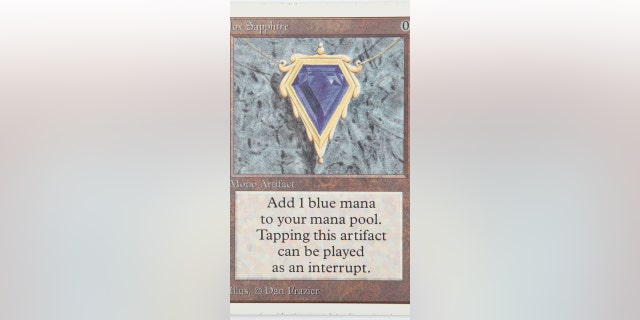 Mox Sapphire is another of the "Power Nine" and is banned from most normal playing formats — but it's still highly sought after, according to the Wizards of the Coast website.  (SWNS)
A sealed box containing 10 sealed Magic: The Gathering Unlimited Starter Decks from 1993 sold for $150,000 in July 2021, according to the website for Heritage Auctions, the auction house facilitating the sale.
"It is difficult enough to come upon a still sealed Unlimited Starter Deck, but even more amazing to find a full box still sealed. Do not let this chance pass you up," said Heritage Auctions.
HASBRO DELAYS UPDATE TO DUNGEONS AND DRAGONS OPEN GAME LICENSE AS FAN BASE REVOLTS
In March 2023, an extremely rare alpha edition "Black Lotus" card in mint condition was sold for $540,000, the gaming website Polygon reported.
The card was stored in a plastic case, which was signed by Christopher Rush, who illustrated the card's design.
Black Lotus is also part of Magic: The Gathering's "Power Nine."
CLICK HERE TO GET THE FOX NEWS APP
"This record sale reinforces the Alpha Black Lotus as an investment-quality asset, fortifies its claim as a true work of art, and shows exactly how important Magic: The Gathering is to the culture of gaming and trading card games," said Jesse Craig, vice president of sales at PWCC Marketplace, the auction house behind the record sale.
CLICK HERE TO SIGN UP FOR OUR LIFESTYLE NEWSLETTER
Craig referred to the signed cards as the "crown jewels" of a collection of Magic cards, and said they are "museum-caliber pieces."