Ukrainian President Volodymyr Zelenskyy visited the United Kingdom on Monday, negotiating further military support with the nation's leader.
Zelenskyy met with British Prime Minister Rishi Sunak at Chequers, the leader's official country residence. Sunak greeted his counterpart warmly, hugging and shaking hands before ushering him inside.
"This is a crucial moment in Ukraine's resistance to a terrible war of aggression they did not choose or provoke," Sunak said.
First and foremost on Zelenskyy's mind was a mission to form a "fighter jet coalition" that will aid Ukrainian forces in aerial combat.
UKRAINE CLAIMS IT SHOT DOWN RUSSIAN HYPERSONIC MISSILE WITH US PATRIOT SYSTEM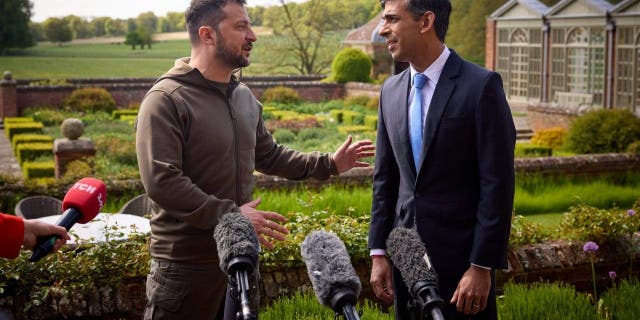 British Prime Minister Rishi Sunak, right, and Ukrainian President Volodymyr Zelenskyy speak the press members after their meeting at the Chequers, the prime minister's official country residence in Aylesbury, United Kingdom, on May 15, 2023. (Photo by Ukrainian Presidency / Handout/Anadolu Agency via Getty Images)
He added,"We must not let them down."
Russia reacted with anger to the U.K.'s continued material support of Ukraine.
Last week, U.K. Defense Minister Ben Wallace announced to Parliament that the country would be sending Storm Shadow long-range cruise missiles to Ukraine.
The cruise missiles have a range of over 155 miles and will allow Ukrainian forces to strike targets far from the front lines.