A video has captured a mob of cyclists pummeling a man in Los Angeles in an attack police described as "shocking."
The beating unfolded Thursday afternoon in the city's downtown Jewelry District, according to KTLA.
"Central Division is aware of a shocking video involving a fight between a group of people on bicycles and an individual in a pick-up truck, "the Los Angeles Police Department tweeted over the weekend. "To date, no one has reported this incident to the police. We are asking the victims to come forward and contact Central Station."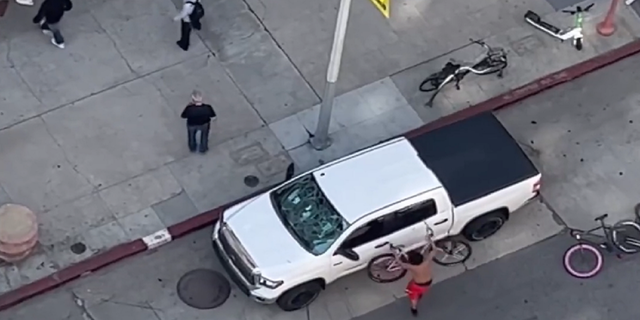 A cyclist is seen using his bike to damage the window of a pickup truck on Thursday, May 18, in Los Angeles. (@g.impress.l.a/Local News X/TMX )
Another cyclist is seen smashing his bike's handlebars into the driver side window of a pickup parked nearby. The truck's windshield was already shattered.
The group then starts throwing punches at the man on the sidewalk, drawing shouts from other people standing in the area.
When the man falls to the ground, the mob encircles him and is seen kicking him as he tries to protect himself.
The man later is seen running back to the smashed-up truck and hops into the driver's seat.
The unidentified cyclists are seen attacking the victim in Los Angeles. (@g.impress.l.a/Local News X/TMX )
Two members of the mob open the truck's door and start throwing more punches before he manages to drive off.
The cyclists are riding around in the middle of the street when the video ends.
"It was horrible," the witness who filmed the video, identified by KTLA only as Gary, told the station. "When I got to the window, I saw probably about six or seven kids on bicycles. There was a white pickup truck parked out front and I saw somebody smashing in the window with his bike."