A new image from NASA's James Webb Space Telescope shows a supernova remnant created by a massive exploding star.
The mid-infrared image shows the supernova remnant Cassiopeia A which was created by an event 340 years ago, from Earth's perspective.
Located 11,000 light-years away in the constellation Cassiopeia, Cassiopeia A is the youngest known remnant from an exploding, massive star in our galaxy. It spans about 10 light-years.
While Cassiopeia A is a prototypical supernova remnant that has been widely studied, Webb's infrared capability allows researchers to see in new detail.
JAMES WEBB SPACE TELESCOPE CAPTURES MOST DETAILED EVER IMAGE OF URANUS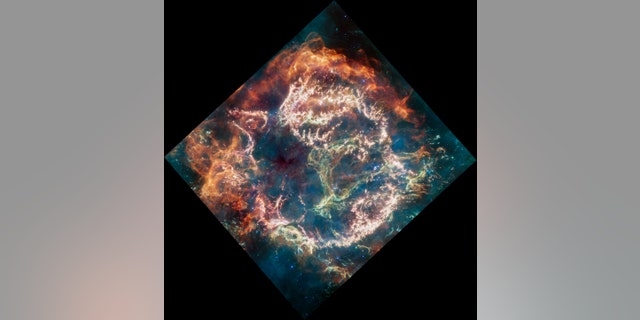 Cassiopeia A (also known as Cas A) is a supernova remnant located about 11,000 light-years from Earth in the constellation Cassiopeia. It spans approximately 10 light-years. This new image uses data from Webb's Mid-Infrared Instrument (MIRI) to reveal Cas A in a new light. (Credits: NASA, ESA, CSA, D. D. Milisavljevic (Purdue), T. Temim (Princeton), I. De Looze (Ghent University). Image Processing: J. DePasquale (STScI).)
The colors of this new image – in which infrared light is translated into visible-light wavelengths – hold scientific information.
At the top left, on the bubble's exterior, orange and red curtains from warm dust emissions are indicative of where ejected material from the exploded star is colliding with surrounding circumstellar gas and dust.
The bright pink represents material from the star itself, shining due to a mix of heavy elements and dust emission.
The green loops extends across the right side of the central cavity.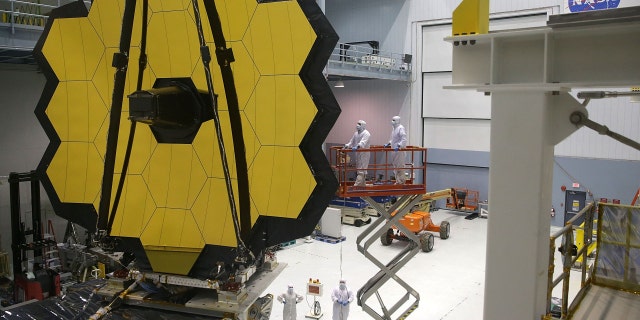 GREENBELT, MD – NOVEMBER 2: Engineers and technicians assemble the James Webb Space Telescope on November 2, 2016, at NASA's Goddard Space Flight Center in Greenbelt, Maryland.  ((Photo by Alex Wong/Getty Images))
NEIL DEGRASSE TYSON SAYS JAMES WEBB SPACE TELESCOPE IS WINDOW TO UNIVERSE 'NEVER BEFORE ACHIEVED'
Scientists are still trying to determine all the sources of emission.
The stellar material is also shown as fainter wisps that are near the cavity's interior.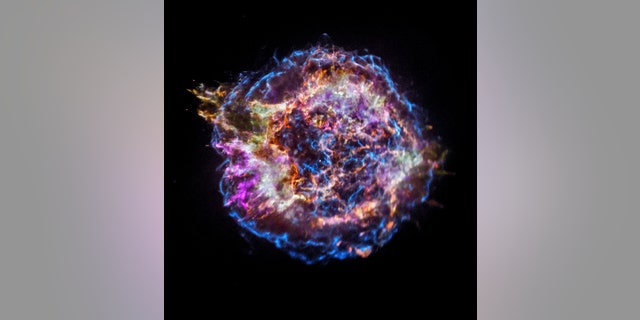 An image from NASA's Chandra X-ray Observatory shows the location of different elements in the remains of the explosion: silicon (red), sulfur (yellow), calcium (green) and iron (purple). Each of these elements produces X-rays within narrow energy ranges, allowing maps of their location to be created. The blast wave from the explosion is seen as the blue outer ring. (Image credit: NASA/CXC/SAO)
By studying this supernova remnant with Webb, astronomers hope to gain a better understanding of its dust content and, in turn, where the building blocks of planets and ourselves are created.
Even very young galaxies in the early universe are made up of dust.
CLICK HERE TO GET THE FOX NEWS APP
"By understanding the process of exploding stars, we're reading our own origin story," Purdue University's Danny Milisavljevic, the principal investigator of the Webb program that captured these observations, said in a statement. "I'm going to spend the rest of my career trying to understand what's in this data set."